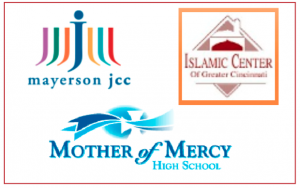 Staff Report 
Just days after Earth Day, the Mayerson JCC, the Islamic Center of Greater Cincinnati, and Mother of Mercy High School have announced an Intercultural Day of Service.
Sunday, April 26, beginning at 3 p.m. approximately 60 teens from throughout the tri-state, representing three major world religions, will work together in the spirit of interconnectedness and unity, to establish a new butterfly garden at Imago Earth Center, and in doing so, form connections among one another.  Continue reading →
Staff Report
The seven men expected to be ordained priests for the Archdiocese of Cincinnati in 2016 will be ordained transitional deacons Saturday, April 25. The ordination begins at 11 a.m. at the Cathedral of St. Peter in Chains, with Auxiliary Bishop of Cincinnati Joseph R. Binzer presiding. Continue reading →
Staff Report
The Cincinnati chapter of the National Pastoral Musicians Association (NPM Cincinnati) hosted three choral festivals in recent months, one in Lent and two in the Easter Season. A photo gallery of the performances appears at the bottom of this story. Continue reading →
Staff Report
NET Ministries, which has put on more than 300 retreats in the Archdiocese of Cincinnati, is continuing its mission of proclaiming the Gospel. On March 26, the NET team hosted a retreat for sixth through eighth grade students of St. John's Catholic School in Colerain Township.
Staff Report 
The Catholic Telegraph, the official news source of the Archdiocese of Cincinnati, is seeking an intern for the summer of 2015.
The position is unpaid but will provide a student of mass communications, journalism, graphic arts or photography with the opportunity for on-the-job training, and can be structured to meet requirements for academic credit. Continue reading →
Staff Report
The Summit Country Day School, a Catholic school educating students from age 2 through high school in Hyde Park, announced an $18.6 million capital campaign entitled "Aiming Higher" Tuesday afternoon. Among the initiatives, the campaign would fund a five-story addition to the east wing of the main building. Continue reading →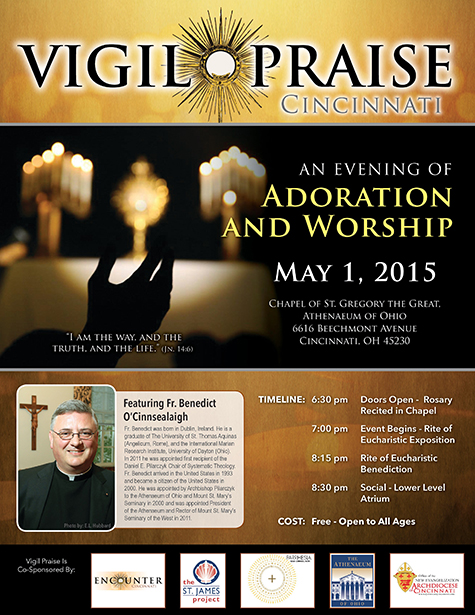 By John Stegeman
The Catholic Telegraph 
Finding events for teens or retirees hasn't been a challenge in many parts of the church. One underserved population, however, has been young adults. Five local ministries have combined forces to fix that problem beginning May 1 with the first Vigil Praise event, an evening of Adoration and worship in the St. Gregory the Great Chapel at the Athenaeum of Ohio.
Vigil Praise is based on an eponymous event started in the Archdiocese of Denver in 1999. Continue reading →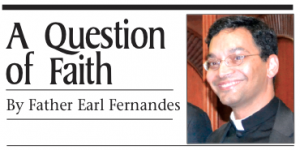 Dear Father: Year after year and month after month, I have been wondering why does the creed we recite during Sunday Mass state that Christ "rose again?" When was the first time He rose? I checked my Lithuanian creed interpretation and it does not state "He rose again."  In Lithuanian, the text reads:  "pagal Rasta, prisikele is numirusiu" The translation would be: pagal (according), Rasta (to the Scripture), prisikele (rose), is numirusiu (from the dead). In the Lithuanian translation there would be (ir vel) for the word "again."
Dear Reader: Thank you for your question. It is an interesting one. I believe your Lithuanian translation is accurate and corresponds to the Greek text of the Nicene-Constantinople Creed which is recited each Sunday. Continue reading →
By John Stegeman
The Catholic Telegraph
Ohio Attorney General Mike DeWine visited St. Joseph Catholic School in Cincinnati Monday. DeWine had reached out to Catholic InnerCity Schools Education Fund (CISE) Director Cary Powell, seeking to visit a CISE school and Powell chose St. Joseph for the tour. Continue reading →
Staff Report
April 16, 1927 was Holy Saturday that year. A Bavarian police officer and his wife had just delivered their third and youngest child. His name was Joseph Ratzinger.
Today is Pope Emeritus Benedict XVI's 88th birthday and by providence, his papacy began three days after his birthday in 2005. April 19 will mark 10 years since his election to the Petrine office. Continue reading →