Staff Report
The 2014 Fish Fry guide, presented by The Catholic Telegraph is now available online HERE.
Nearly 4,000 people visited the Fish Fry calendar in 2013, making it the third-most popular feature on www.thecatholictelegraph.com behind the Festival Guide and Mass Time Calendar. Continue reading →
Feb. 28, 2014
Staff Report
Though first announced Feb. 11, the resignation of Pope Benedict XVI took effect one year ago on Feb. 28, 2013. Continue reading →
By Steve Trosley
The Catholic Telegraph
More than 400 people braved a small group of placard-carrying protesters and snow-clogged parking lots to hear Bishop Thomas Paprocki speak on the Catholic teachings on marriage and same-sex relationships Feb. 12 in the Bartlet Center at the Athenaeum.
Bishop Paprocki, leader of the Springfield, Illinois, diocese, attracted media attention last year after he performed a minor exorcism in the cathedral there after the Gov. Pat Quinn signed a law recognizing same-sex marriage. Continue reading →
Staff Report
Every year thousands of students from the 23 Catholic high schools of the Archdiocese of Cincinnati graduate and go on to college. A select few continue their athletic careers competitively at the next level.
The following is a list of Catholic school students throughout the archdiocese who signed during the winter signing period to play collegiate athletics.  Continue reading →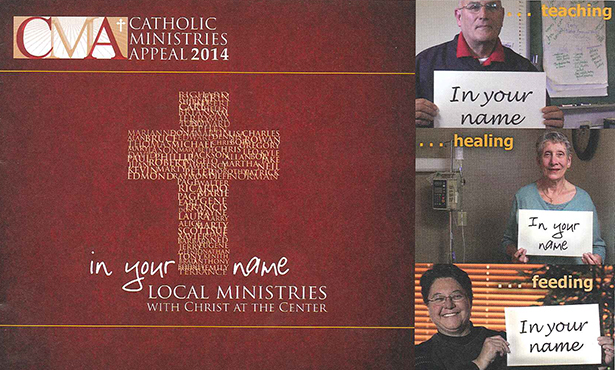 Staff Report
The 2014 Catholic Ministries Appeal (CMA) got underway the weekend of Feb. 22-23, kicking off the annual fund drive that fuels a collection of ministries through the 19 counties of the Archdiocese of Cincinnati. Continue reading →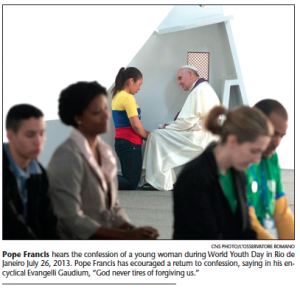 The following is a closer glance at the Sacrament of Reconciliation in light of the archdiocesan initiative "The Light is ON For You." All parishes of the Archdiocese of Cincinnati will be open from 7-9 p.m. on March 18 to offer confession. Read more about that event here.
"Those who approach the sacrament of Penance obtain pardon from God's mercy for the offense committed against him, and are, at the same time, reconciled with the Church which they have wounded by their sins and which by charity, by example, and by prayer labors for their conversion." — Catechism of the Catholic Chuch, 1422 Continue reading →
By John Stegeman
The Catholic Telegraph
One catechetical joke asks the question, "What is the difference between a sinner and a saint?
The answer — confession.
According to the Catechism of the Catholic Church, "after having attained the age of discretion, each of the faithful is bound by an obligation faithfully to confess serious sins at least once a year." Continue reading →
Press Release
Archdiocese of Cincinnati 
The Vatican's Congregation for the Doctrine of the Faith (CDF) has acted on the cases of two priests of the Archdiocese of Cincinnati accused of child abuse, removing Daniel Pater from ministry permanently and restoring Fater David F. Reilly to active ministry. Continue reading →
Staff Report
With a detailed explanation of the Archdiocese of Cincinnati's "The Light is ON For You" campaign, the famous annual Fish Fry listings, a photo recap of the March for Life and the usual mix of local news and commentary, the March print edition of The Catholic Telegraph will arrive in homes during the final week of February. Continue reading →
Press Release
On Sunday, March 9, the Archdiocese of Cincinnati will celebrate the Rite of Election and the Call to Continuing Conversion with 946 adults and children seeking entrance into the Roman Catholic Church. Continue reading →