Catholic News Agency
As Christians continue to face unprecedented persecution – especially in the Middle East – the Knights of Columbus have announced a new campaign to send humanitarian aid and raise awareness about their plight.
"Pope Francis has urged the international community to take action to help Christians in the Middle East, and as an organization that has long supported victims of religious persecution, the Knights of Columbus is responding by asking our own members, and the public at large, to help us save the lives of people who are being persecuted simply because of their Christian faith," Supreme Knight Carl Anderson said in a July 24 press release. Continue reading →
By Mark Zimmermann
Catholic News Service
WASHINGTON — Cardinal William W. Baum, the archbishop of Washington from 1973 to 1980, died July 23 at the age of 88 after a long illness. He was a cardinal for 39 years — the longest such tenure in U.S. church history.
Cardinal Baum witnessed history from the Second Vatican Council through the election of the first Latin American pope, and he made history himself.
By the spring of 2011, he had worn the red cardinal's hat for nearly 35 years and surpassed the record of Baltimore Cardinal James Gibbons, who had been a cardinal from 1886 until his death in 1921. The soft-spoken Cardinal Baum, whom some of the Vatican's Swiss Guards called "the gentle cardinal," found no merit in his longevity. "It's a gift from God," he said.  Continue reading →

By Catholic News Service 
WASHINGTON — Pope Francis has named three auxiliary bishops for the Archdiocese of Los Angeles and accepted the resignation of Auxiliary Bishop Gerald E. Wilkerson, 75.
The changes were announced July 21 in Washington by Archbishop Carlo Maria Vigano, apostolic nuncio to the United States.
The pope appointed two priests from Los Angeles and one from Chicago, the rector of Mundelein Seminary, to be auxiliary bishops. Continue reading →
By Valerie Schmalz
Catholic News Service 
SAN FRANCISCO — A video released July 14 appears to show a top Planned Parenthood official discussing the sale of parts of aborted babies for research, including discussing ways the abortion procedure can be altered to preserve specifically requested body parts.
The nearly nine-minute edited video — filmed undercover and produced by the Center for Medical Progress — quickly went viral and Planned Parenthood denied making a profit on the sale of aborted baby parts. Continue reading →
By Catholic News Service
DENVER — The Little Sisters of the Poor and other religious entities are not substantially burdened by procedures set out by the federal government by which they can avoid a requirement to provide contraceptive coverage in health insurance, the 10th U.S. Circuit Court of Appeals ruled July 14.
In a lengthy opinion that considered arguments raised by the organizations under First Amendment religious rights protections and under the Religious Freedom Restoration Act, the court said the groups are not substantially burdened by filing out a form or notifying Health and Human Services via email or a letter that because of their religious-based objections to the mandated coverage, they will not provide it. Continue reading →
By Matt Hadro
CNA/EWTN News
After the Supreme Court legalized same-sex marriage, some county clerks have voiced religious objections to issuing marriage licenses to same-sex couples. Does legal protection for them exist?
"Frankly, there's no reason why they [the clerks] should have to resign," Ken Connelly, legal counsel for the group Alliance Defending Freedom, told CNA.
This is assuming that should some clerks recuse themselves from issuing licenses on religious grounds, other clerks would be available to do so for same-sex couples, he said. Continue reading →
By Julie Asher
Catholic News Service 
WASHINGTON — Religious freedom is "the human right that guarantees all other rights," Miami Archbishop Thomas G. Wenski said July 4 in his homily at the closing Mass of the U.S. bishops' fourth annual Fortnight for Freedom.
That right "has its foundation in the very dignity of the human person," he said at the Basilica of the National Shrine of the Immaculate Conception in Washington. "Peace and creative living together will only be possible if freedom of religion is fully respected." Continue reading →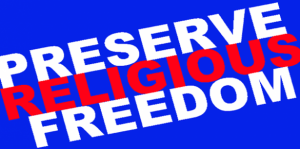 By Patricia Zapor
Catholic News Service
WASHINGTON — In a June 29 order, the Supreme Court continued to shield several Pennsylvania religious institutions from having to provide employees with health care coverage that includes contraceptives.
The order in a case filed by the bishops and the Dioceses of Pittsburgh and Erie, Pennsylvania, their charitable institutions and a school said the government may not enforce the challenged provisions of the Affordable Care Act, pending final resolution of legal challenges on the merits of the institutions' objections to what is known as the contraceptive mandate. Continue reading →

By Kerri Lenartowick
Catholic News Agency
More than 10 years ago, Joseph Prever found himself scouring the internet for anything that might help him: he was gay, Catholic, and confused. Resources were scarce for a man struggling with homosexuality and trying to remain faithful to the Church's teaching.
By Cindy Wooden
Catholic News Service
VATICAN CITY — In word and deed, Pope Francis will take his vision of a Catholic's approach to family life, parish life, charity, economics, immigration and good governance to Cuba and the United States during a Sept. 19-27 visit.
Visiting both Cuba and the United States on the same trip not only acknowledges his role in encouraging detente between them, but will give Pope Francis an opportunity to demonstrate that while different political and cultural challenges face Catholics in both countries, the Gospel and its values are the same. Continue reading →