CNA/EWTN News
Pope Francis will establish a commission to review the matrimonial process in canon law with the goal of simplifying the procedure while maintaining the indissolubility of marriage, the Holy See Press Office announced Saturday.
According to Vatican Radio, the decision was made on Aug. 2 of this year and the commission will be chaired by Monsignor Pio Vito Pinto, dean of the Roman Rota. Continue reading →
By Francis X. Rocca
Catholic News Service 
VATICAN CITY — The extraordinary Synod of Bishops on the family will not open until Oct. 5, but some of its most prominent members are already publicly debating what is bound to be one of its most controversial topics: the eligibility of divorced and civilly remarried Catholics to receive Communion.
In an interview published Sept. 18, a proponent of changing church practice to allow such Catholics to receive Communion answered criticism from some of his fellow cardinals, suggesting they are seeking a "doctrinal war" whose ultimate target is Pope Francis. Continue reading →
By Beth Griffin
Catholic News Service 
NEW YORK — Peace is never achieved once and for all, but is the fruit of a daily quest for greater justice and respect for one another, the new papal nuncio to the United Nations said Sept. 15.
For believers, it is not merely a result of human efforts, but also a gift from the Almighty, Archbishop Bernardito Auza said. Continue reading →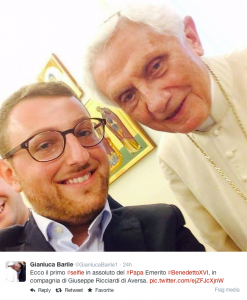 Catholic News Agency
ROME — The first "selfie" of retired pontiff Benedict XVI is making the rounds on social networks.
By Ezra Fieser
Catholic News Service 
SANTO DOMINGO, Dominican Republic — Poverty, violence and changing social norms are causing the disintegration of the family structure across Latin America, church workers in the region said in advance of the October gathering of bishops in the Vatican to discuss pressures families face. Continue reading →
By Cindy Wooden
Catholic News Service
VATICAN CITY — Human trafficking destroys the lives of millions of children, women and men each year, making it a real threat to peace, the Vatican said as it announced Pope Francis' 2015 World Peace Day message would focus on the phenomenon. Continue reading →
By Catholic News Service
ROCHESTER, N.H. — In April 2013, the parents of slain U.S. journalist James Foley attended a prayer vigil at Marquette University in Milwaukee to pray for their son, who at that time had disappeared in Syria. Continue reading →
By Francis X. Rocca
Catholic News Service
ABOARD THE PAPAL FLIGHT FROM SEOUL, South Korea — Pope Francis said the use of force can be justified to stop "unjust aggressors" such as Islamic State militants in northeastern Iraq, but he declined to endorse U.S. military airstrikes against the militants and said such humanitarian interventions should not be decided on by any single country. Continue reading →
By Francis X. Rocca
Catholic News Service
SEOUL, South Korea — Starting his first visit to Asia, Pope Francis urged South Korean political and civic leaders to seek peace on their divided peninsula and strengthen their nation's commitment to democracy and social justice.
"Peace is not simply the absence of war, but the work of justice," the pope said Aug. 14 in a speech at Seoul's Blue House, the official residence of President Park Geun-hye. Continue reading →
By Francis X. Rocca
Catholic News Service 
VATICAN CITY — The Vatican called on Muslim leaders to condemn the "barbarity" and "unspeakable criminal acts" of Islamic State militants in Iraq, saying a failure to do so would jeopardize the future of interreligious dialogue. Continue reading →