A Mass of Christian Burial for Sister of Charity of Cincinnati Mary Patricia Wagner was celebrated July 25 in the motherhouse chapel. Sister Mary Pat, 91, died July 20. She was a Sister of Charity of Cincinnati for 71 years.  Continue reading →
A Mass of Christian Burial for Precious Blood Sister Evelyn Monnin, was celebrated at the Salem Heights Chapel on Aug 9. Sister Evelyn died at the Maria Joseph Center in Dayton on Aug. 6. She had been a Sister of the Precious Blood for 72 years. Continue reading →
A Mass of Christian Burial for Precious Blood Sister Marie Renee Hoehn was celebrated Aug. 16 at Salem Heights Chapel in Dayton. Sister Marie Renee died at the Maria Joseph Center in Dayton on August 12. She had been a Sister of the Precious Blood for 69 years. Continue reading →
A Mass of Christian Burial for Marianist Father Paul Vieson was celebrated Aug. 13, 2014 at Queen of Apostles Chapel in Dayton. Father Vieson, 74, died Aug. 6. He had been a Marianist for 54 years.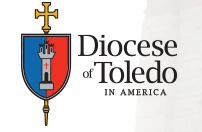 By Cherie Spino & Angela Kessler
Catholic News Service 
TOLEDO — Retired Auxiliary Bishop Robert W. Donnelly of Toledo, Ohio died July 21 at his home in Toledo at age 83.
Afternoon visitation was scheduled for July 28, to be followed by an evening vigil at Our Lady, Queen of the Most Holy Rosary Cathedral in Toledo. Morning visitation and a rosary July 29 was to take place before a noon funeral Mass at the cathedral. Committal was to be at Resurrection Cemetery in Toledo. Continue reading →
A Mass of Christian Burial for Sister of Notre Dame de Namur Patricia Sammons was celebrated May 5 at the St. Julie Chapel in the Mount Notre Dame Convent. Continue reading →
A Mass of Christian Burial for Precious Blood Sister Valeria Abele was held May 12 at the Salem Heights Chapel in Dayton. Continue reading →
A Mass of Christian burial for Father Joseph H. Lutmer, a retired pastor of the archdiocese, was celebrated May 20 at St. Monica-St. George Church in Clifton. Continue reading →
Father John "Jack" J. Mattscheck died Thursday morning, May 29. Continue reading →
A Mass of Christian Burial for Sister of St. Francis Laurita Kroger was celebrated March 12 at the motherhouse chapel in Oldenburg, Ind. Continue reading →