Athenaeum News: Lectors Installed, a Step toward Holy Orders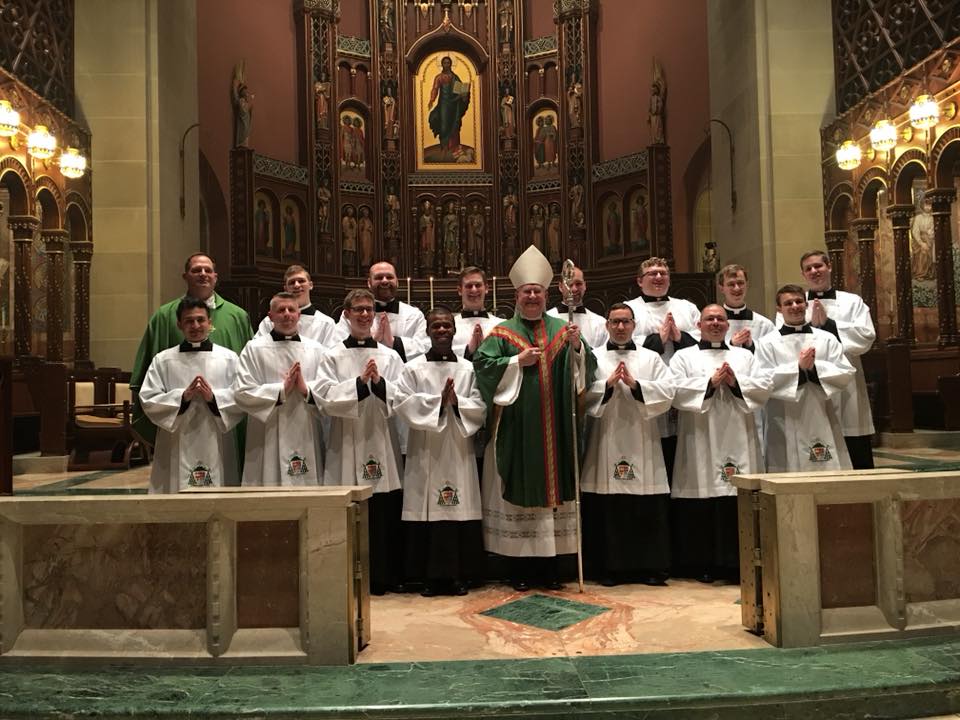 Fourteen candidates took a step toward holy orders as they were installed to the Institution of Lector by the Most Reverend Joseph E. Kurtz, Archbishop of Louisville, during Mass in the Chapel of St. Gregory the Great February 3. A large crowd was present for the Mass with 52 families in attendance for the installation and Parents-Seminarians Dinner which followed.
Candidates, at the end of the second year of formation, petition for and if selected, receive the Ministry of Lector. This calls them to be servants of the Living Word of God. In proclaiming the readings at liturgy, the lector does more than simply read. Those who exercise the Ministry of Lector must be truly suited and carefully prepared, so that the faithful may develop a warm and living love for Sacred Scripture from listening to the sacred readings.
After the gospel, Archbishop Kurtz sat and Deacon Andrew Wellmann called the candidates forward one by one. The archbishop handed each candidate the Bible saying, "Take this book of Holy Scripture and be faithful in handing on the word of God, so that it may grow strong in the hearts of his people." The lectors each answered, "Amen" and handed the Bible back to the archbishop.
Congratulations to those installed:
Archdiocese of Cincinnati
Chibueze Raymond Asiegbulem
Ethan Michael Hoying
Stephen Paul Jones
Kevin Andre LeMelle
Jacob Benjamin Lindle
John Tyler Marsh
Charles Albert Westerhold
Michael Anthony Willig
Broderick Michael Witt
Archdiocese of Louisville
Willard Robert Hale
Diocese of Kansas City – St. Joseph
Randolfo Lemus Arias
Elvis Hernán Aguilar Ramírez
Diocese of Toledo
Alexander O'Neal Elfreich
Thomas Phillip Hunyor, Jr.