Becoming Who God Made You to Be
Shane was afraid of who he would grow up to be. He hadn't seen his mother in years; mental and emotional challenges transitioned her in and out of hospitals during his childhood. He lived with his father, who provided a roof over Shane's head and a fridge full of food—or at least paid for their delivered dinner—but spent most of his after-work time at home watching TV alone, in the living room.
While a sophomore at a Catholic high school, Shane had a few good friends, got along with most people, raised a little mischief but never too much and did well enough in his classes to stay off the radar. In short, he was getting by.
On his sophomore retreat, he shared with his campus minister that he was afraid of who he would grow up to be. Would he end up like his mom? Would his life be empty like his dad's? He felt his life was on the fast-track to nowhere, and he didn't know what to do about it. What was the point of his life?
PURPOSE AND POSSIBILITY

Purpose unlocks life's possibilities. Find someone who doesn't know their purpose, and you will often find someone who is adrift and afraid. Find someone who knows their purpose, and you will find someone filled with passion and ambition. There is a reason everyone—no matter their education, religious affiliation, wealth or position—will, at some point in their life, raise their eyes to heaven and ask the age-old questions: Who am I? Why am I here? What am I meant to do with my life?
The great advantage Catholic schools have—the one thing they can offer that no other school can—is the right answer to those questions. Any school can give an answer, but only Catholic schools can provide the answer: That we are the beloved sons and daughters of God. That our purpose in this life is to know and love God now and be with Him in Heaven. This is the ultimate purpose of Catholic education. In fact, it is the ultimate purpose of everything we do in life. Each act and choice either affirms our belief that we are a beloved child of God or denies it, and either aligns with our purpose to know and love God or rejects it.
We might be tempted to look at our Catholic schools and proclaim their high test scores, their service, their strong school community or many other virtues. And those are, of course, all good and noble accomplishments. But they are not the very best thing about our Catholic schools.
I send my four sons to Catholic school and hope their school will help me form them to be men of virtue, with strong intellect and great personal relationships. But more than anything, I hope their Catholic school will help me impress on them their purpose. I hope their Catholic school will help me with the thing that no other school can: Teach my boys that they are God's beloved sons and that their lives' purpose and meaning is to know, love and serve God in this life and to be with Him in the next.
Shane was afraid of who he was becoming. His life had no purpose. Any school could educate him. Any school could help him form strong friendships. Any school could preach to him about character, values and the importance of being a good person. But it was his Catholic school that required him to go on a retreat as a high school sophomore and sent a Campus Minister to minister to him. It was his Catholic school that taught him the most important accident. God has a great plan for his life. God loves Him. He is God's son. His life has a purpose—to know, love and serve God and be with him.
Learning that on his sophomore retreat at his Catholic school changed Shane's life. And it's the reason he is known as Father Shane at his parish today.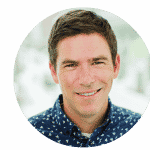 Dominick Albano is The Catholic Telegraph's director of digital engagement, an author and national speaker. He and his wife have been married for 15 years and have four sons. [email protected]
This article appeared in the January 2023 edition of The Catholic Telegraph Magazine. For your complimentary subscription, click here