Bishop Joseph R. Binzer Installs Acolytes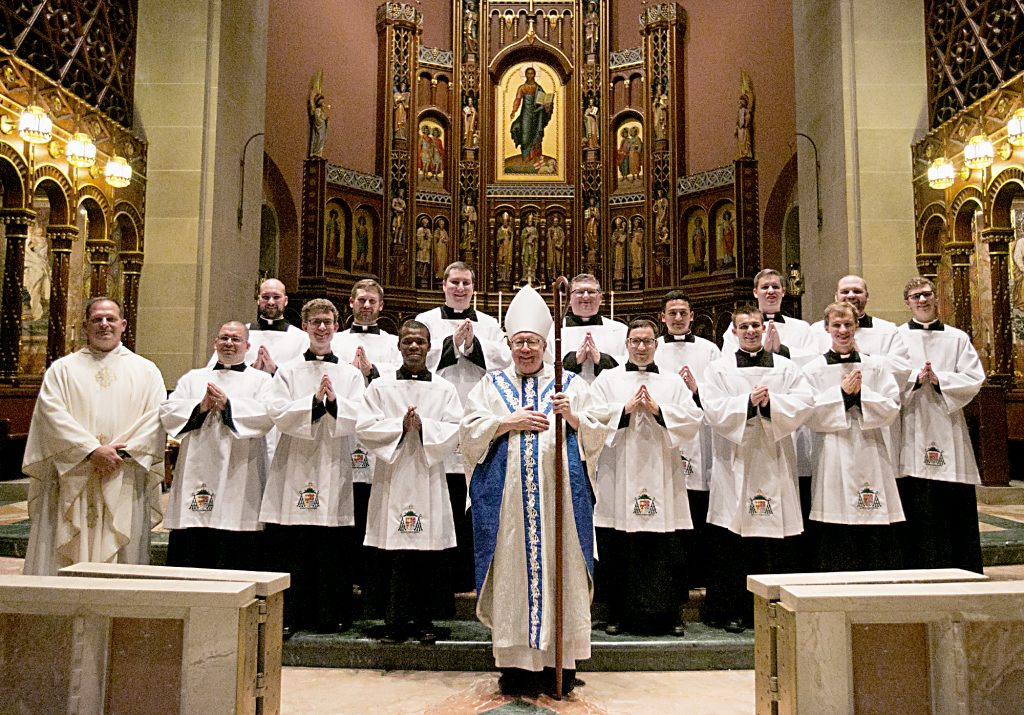 The installation to the Ministry of Acolyte took place in the Chapel of Saint Gregory the Great as Bishop Binzer handed each of the fourteen men installed a paten and said: "Take this vessel with bread for the celebration of the Eucharist. Make your life worthy of your service at the table of the Lord and of his Church." The men replied, "Amen," and handed it back.
The acolyte is instituted for service at the altar and to assist the Priest and Deacon. It is his place principally to prepare the altar and the sacred vessels and, if necessary, to distribute the Eucharist to the faithful as an extraordinary minister.
Ministry of Acolyte is one of the three formal, liturgical steps toward diaconate ordination. These steps begin with the Rite of Candidacy followed by the Ministry of Lector and then the Ministry of Acolyte. With the blessing of God and the Church, the Rite of Ordination is the final step.
Congratulations to those newly installed as acolytes!
Archdiocese of Cincinnati
Chibueze Raymond Asiegbulem
Ethan Michael Hoying
Stephen Paul Jones
Kevin Andre LeMelle
Jacob Benjamin Lindle
John Tyler Marsh
Michael Anthony Willig
Broderick Michael Witt
Archdiocese of Louisville
Willard Robert Hale IV
Diocese of Kansas City-St. Joseph
Elvis Hernan Aguilar
Randolfo Lemus Arias
Diocese of Toledo
Benjamin James Dollarhide
Alexander O'Neal Elfreich
Thomas Phillip Hunyor, Jr.