Marian Pilgrimage May 16 – June 19, 2021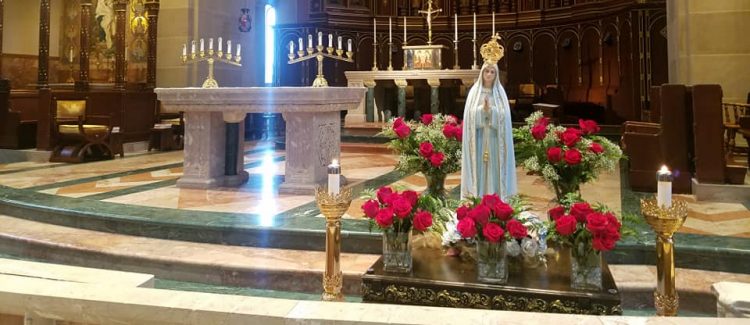 Tuesday, June 15, 2021
St, Ignatius of Loyola, Monfort Heights
6:00 p.m.: Mass with a Baptism in the context of Mass
7:00 p.m.: Eucharistic adoration and Rosary
Sensory Friendly
At 3:30pm at St. Ignatius there will be an ADAPTIVE ROSARY PRAYER SERVICE followed by a procession around the baseball fields. There is plenty of parking and the route is paved accessible.
Contact: sainti.org
Wednesday, June 16, 2021
Our Lady of Lourdes, Western Hills
7:00 p.m. Mass, followed by a reception
Contact: lourdes.org
Thursday, June 17, 2021
St. Monica St George, Clifton
6:30 p.m.: "Parking Lot Praise" (outdoor Eucharistic adoration, praise and worship music, fellowship, real tattoo artists, etc.)
Contact: stm-stg.org
Friday, June 18, 2021
Holy Cross Immaculata, Mt. Adams
7:00 p.m.: Testimony from pilgrims, followed by a Holy Hour
Contact: www.hciparish.org
Saturday, June 19, 2021
Fountain Square, Downtown Cincinnati
Join Us on this most historical day in the Archdiocese of Cincinnati.
The final day of the pilgrimage will be marked with a celebration of the Archdiocese's Bicentennial at Fountain Square in Cincinnati.
The Bicentennial Mass with the Archbishop at St. Peter in Chains. The Mass, in particular the re-consecration of the Archdiocese to Mary, will be live-streamed to the Fountain Square event which begins at 11:00 a.m..
Following Mass, a cultural bicentennial celebration will begin with music and dance from Catholic communities throughout the archdiocese, including Resurrection's Gospel Choir and a Latino Dance group.
At 2:00 p.m. the Christian collaborative group Village Lights will begin, featuring artists Sarah Kroger, Ike Ndolo, and Ricky Vazquez. Food trucks will also be on hand throughout the afternoon as we celebrate the conclusion of the Marian Pilgrimage, Consecration to Mary, and the Bicentennial of the Archdiocese of Cincinnati.
Cathedral Basilica of St. Peter in Chains Downtown Cincinnati
Note: Mass is by invitation only