The Catholic Spelunker
The Catholic Spelunker by Dominick Albano
The most important party you can go to this month CISE is throwing a party on Saturday, March 7, at Rhinegeist Brewery! It's food, drinks and prizes for a good cause. CISE's mission, which the
party supports, is to provide a Catholic education to under-privileged children.
Ninety-six percent of the 2,000 students CISE supports live in poverty, but because of CISE they are able to receive a life-changing Catholic education.
You can check out a video of the 2019 party here:
Visit http:// bidpal.net/otr to purchase tickets. $80 gets you an open bar, amazing food, live music, paid valet parking, a silent auction and fun you can feel really good about!
Welcome to Lent 2020!
Lent might not have all the same razzle dazzle that Advent gets, but this season is a mainstay for Catholics. Friday fish fries, giving something up, the color purple, and not saying the Alleluia. But what does it take to have a truly amazing Lent?
Enter The Ultimate Guide to Lent from The Catholic Telegraph. This guide is designed to deliver all the Lent content you need in a drop-dead gorgeous package. It's got everything from all the important dates and rules we all struggle to keep clear, to ideas for new traditions you can start with your family, and even a Lenten movie list! Visit thecatholictelegraph.com/lentguide to request your free digital copy today!
BASEBALL IS COMING!
Excuse me while I catch my breath. March 26th marks an important day for Catholics everywhere, and especially Cincinnati Catholics: Opening Day for Major League Baseball.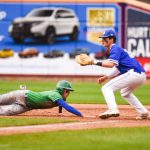 Important for Catholics because baseball is by far the most Catholic of all sports. Important for Cincinnatians because the Cincinnati Reds traditionally open the Major League Baseball season, being Major League Baseball's oldest team. Important for everyone because of what opening day represents: hope, spring, and the promise of warm weather.
For all you baseball-loving Catholics out there, I present to you two pretty cool things:
• The first is a video of Pope Saint John Paul II in a batting cage during his 1987 visit to California. Watch six minutes of our pope and saint stepping into the lefty batter's box and crushing baseballs.
• The second is an article from noted Catholic writer George Weigel. In the article Weigel discusses the Catholicity of baseball and two of the great Catholics involved in the game.
You will find this article by clicking here.
God's always waiting to be found in the good, the true, the beautiful and the other cool stuff of everyday life. I hope you keep on the lookout and happy spelunking!