The Four Fonts of Joy
Whenever I think of joy, I think of Cardinal Timothy Dolan. During the late night show, The Colbert Report, Colbert asked Cardinal Dolan what name he would take if he was elected Pope. After a brief pause and a sly smile, Cardinal Dolan told Colbert—a Catholic himself—"Stephen," inviting raucous applause from the crowd.
I lived in the Archdiocese of Milwaukee when Cardinal Dolan served as Archbishop of Milwaukee from 2002-09. You couldn't be around him without feeling joy. But his quick wit, humor and jovial personality are not why I he comes to mind whenever I think of joy. Cardinal Dolan authored a book that forever changed my life.
Called to be Holy, released in 2005, was adapted from his earlier work, Priests for the Third Millennium. While the latter is for priests, Called to be Holy presents many of its themes and ideas for lay people. One chapter includes the four fonts of joy.
FONT 1: THE ASSURANCE THAT GOD LOVES US.

This first font might sound simplistic, but it's easy to fall into the trap that says God will only love me if I pray more, sin less or give more—that we have to earn God's love. And some feel they can't be loved by God because they've sinned too much or too seriously. Some struggle to love themselves, so how could they feel assured that God loves them?
Conversion is often built around a radical encounter with God's love. God's love is life-changing and joy-giving. Whenever I feel a lack of joy, I remind myself: God loves me.
FONT 2: GOD IS A PART OF YOU.

The chapter's most intellectually challenging section reminds us that, in God's radical love for us, He becomes a part of us. Through the Eucharist, God makes each of us His dwelling place. God does not watch from afar, He enters in. He has made our hearts His home and makes His life part of ours.
Whenever I feel a lack of joy, I remind myself: God is part of me.
FONT 3: GOD HAS A PLAN FOR MY LIFE.

For me, this is often the most important reminder. When stress, anxiety and worry plague my personal or professional life, it saps the joy from my heart. When things seem to fall apart, it is easy to despair over your life's direction and what you're supposed to do next.
The world is chaotic, and it's easy for that chaos to bleed into our personal lives. National and worldwide concerns, like war and the economy, collide with personal concerns, like finances, health and relationships, to leave us feeling lost. God is in control. He has a plan and makes "all things work for good for those who love Him" (Rom. 8:28).
Whenever I feel a lack of joy, I remind myself: God has a plan for my life.
FONT 4: PRAYER

Prayer is a whole-hearted faith response to God. It is our connection and relationship with God. Some might mistakenly believe prayer is our job, an obligation. But prayer is not our gift to God, it's God's gift to us. Through prayer, God gives us instant access to Him. When we pray, the Lord of the Universe hears us.
Whenever I feel a lack of joy, I pray.
These four fonts of joy have become a kind of mantra of my faith. If I feel lost or confused, worried or anxious, I stop, remind myself of three truths and take one action: God loves me. God is a part of me. God has a plan for my life. And I pray.
I hope that, by shining a light on these fonts this month, they fill your life with joy as they have mine.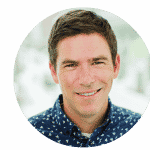 Dominick Albano is The Catholic Telegraph's director of digital engagement, an author and national speaker. He and his wife have been married for 15 years and have four sons. [email protected]
This article appeared in the November 2022 edition of The Catholic Telegraph Magazine. For your complimentary subscription, click here.