The Power Suffering
I've got cancer. I lost my job. My husband asked for a divorce. I can't pay my rent.
Everybody is going through something. So, the question is not: "Do you suffer?" The question is: "What do you do with your suffering?"
Pope St. John Paul II was known to visit a local hospital near Vatican City and remind the patients to not waste their suffering. But what does that mean? How do we put our suffering to good use?
Here are three things to keep in mind to make sure your suffering doesn't go to waste.
1) YOU CAN CHOOSE TO SEPARATE PAIN AND SUFFERING.

One way to control your suffering is to separate it from your pain. Pain is a feeling, an emotional, physical or intellectual hurt. Pain is something you often can't control; but if you think of suffering differently from pain, you possess power over it.
Suffering in the eternal sense is being separated from God. So, placing your pain and suffering into this context gives you some control over it—you may not be able to stop feeling pain, but you can make sure that pain doesn't take you away from God.
2) USE YOUR SUFFERING TO GROW IN HOLINESS.

Bad things happen to everyone, and they are often outside of our control. How we respond to those things is our choice, and every choice either leads you closer to or further from God.
You can't control your suffering in the sense that you can make it magically disappear, but you can use it to grow closer to Jesus. In this way there is a holiness to it, and we only need to look at the saints' examples to see that holiness and suffering are often tied together.
Now, you might think, "Fine, but I'm no saint." Fair enough, but there is a consolation that comes from knowing the pain we experience doesn't have to consume us, if we don't let it.
3) EMBRACE THE POWER.

When Jesus used suffering and death—the punishment for our separation from God—to redeem us from our sins and give us the gift of salvation, He transformed suffering from a punishment into an incredibly powerful force for good.
Your suffering has the power to save. It's a redemptive power; hence, redemptive suffering. Offered for the intentions of those you love, it can accomplish a great spiritual victory. Don't let yourself be a victim of suffering, rather, make of yourself a superhero of suffering, a saint of suffering.
While suffering is not good, you can still use it for good. That might be a hard thing to do—we'd prefer to not suffer at all—but "We know that all things work for good for those who love God" (Rom. 8:28). And there is a certain freedom in knowing that, even though you are suffering, God is still at work.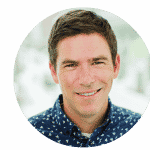 Dominick Albano is The Catholic Telegraph's director of digital engagement, an author and national speaker. He and his wife have been married for 15 years and have four sons. [email protected]
This article appeared in the April 2023 edition of The Catholic Telegraph Magazine. For your complimentary subscription, click here.