What's Under Your Christmas Tree?
Kids sure can be tough on parents.
If I'm gone one night a month for work, they tell me I'm never home to spend time with them. If I lose my temper one time in a month with my 13-year-old for… well… acting like a 13-year-old, he asks why I'm always so mad at him.
Even though I know these are just natural, albeit irrational, reactions of kids, it still stings! After all, I want to be a great dad. And as we approach Christmas, parent-mode goes into overdrive—cutting down the tree, hanging the Christmas lights, buying and assembling the gifts, planning all the special activities, working so you can pay for all of it…
But last year I was struck with an idea that changed how I thought about the season. Picturing the Christmas tree on Christmas morning with mounds of gifts stacked high and wide around it, I wondered: What if the only thing I could put under the tree was who I am, not what I can do or buy?
What if I could only set out my love or dreams for my family? What if all they could see was my joy, hope or peace? How would the tree look then? Let's shine a light on ways you can be a gift of joy, hope and peace for your family this Advent season.
JOY
Joy is a disposition, a brightness of the heart and an exercise of the mind. It is found in the darkest and loneliest of places because you bring it with you, it is not something that happens to you. While we foster joy through our relationship with God, I've found another way to foster it, even when joy isn't yet there: gratitude.
Gratitude fosters joy. You can't be grateful and joyless at the same time. Make it a practice this Advent to be thankful. Remind yourself frequently of all the gifts God has given you. Say, "Thank you," to others, even for the little things. Talk about gratitude at dinner with your family.
When you're grateful, you will be joyful without even trying.
HOPE
Hope is an infectious mix of anticipation and desire. You expect something good just past the horizon. There's a reason you find the world a more naturally hopeful place during Advent: it is filled with an anticipation and desire for Christmas. Sure, some people hope for the wrong reasons— but it is hope nonetheless. And hope is never a bad thing.
To best build hope, remind yourself and those you love of the good things to come. Advent's traditions help foster hope: Advent wreaths, nativity scenes and reflection books. Commit your family's Advent traditions with special focus this year.
PEACE
Peace is only found in the present moment. With so much to do and many places to be, Advent isn't known as the most peaceful time of year. It's easy to get so caught up in preparing for the next thing that you aren't present in the current one.
Be a steady rock in Advent's swirling storm of chaos. Put your phone away—not in a pocket or on the table near you, but upstairs or in another room, and silence it. Look at people, and really listen to them. Walk slowly. Speak softly. These little actions are signs of peace in the present moment, and they won't go unnoticed.
Kids love to run downstairs on Christmas morning and see a Christmas tree surrounded by mounds of presents, but you are the greatest gift to those you love—just as they are to you. If all your family found under the tree on Christmas morning was your joy, hope and peace, what would the tree look like?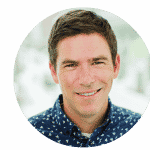 Dominick Albano is The Catholic Telegraph's director of digital engagement, an author and national speaker. He and his wife have been married for 15 years and have four sons. [email protected]
This article appeared in the December 2022 edition of The Catholic Telegraph Magazine. For your complimentary subscription, click here.