Advent Reflections by our Women Religious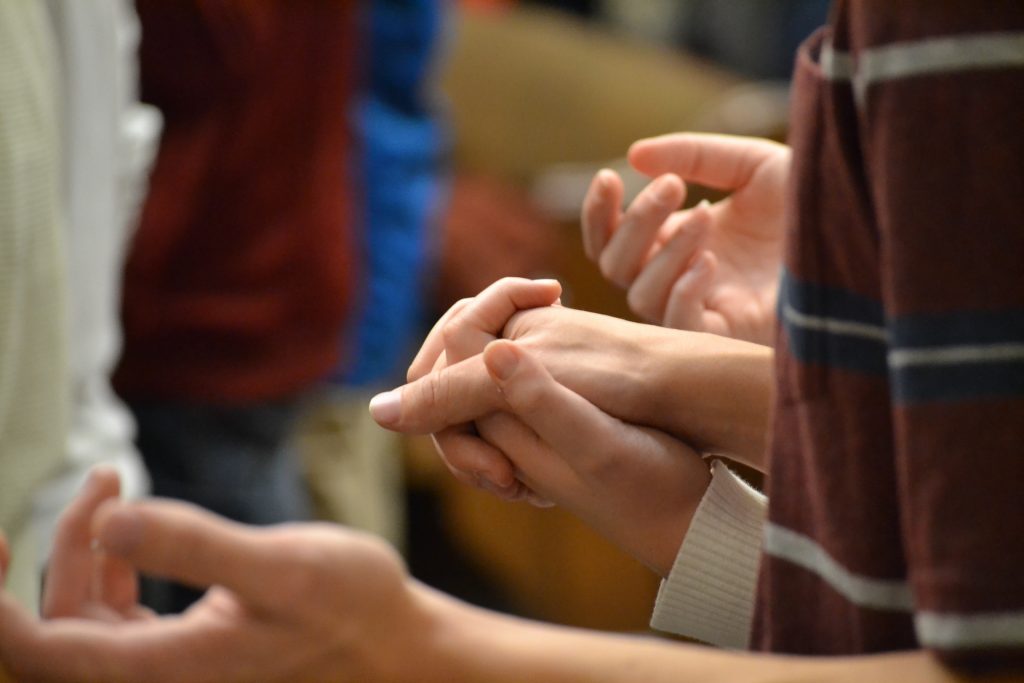 Advent Reflection for December 16th – Saturday of the Second Week of Advent
Sir 48:1-4,9-11/ Ps. 80: 2-3, 15-16,18-19 / Matthew 17: 9a, 10-13
Invitation to Prayer: Let's ask to be open to the fire of God's love and let that fire burn brightly within our hearts as we continue this Advent journey.
Reflection: Elijah appears "like a fire," and his words are like a "flaming furnace." With this fire, Elijah destroys the false prophets of Ba'al. Although a fire is often associated with destruction, it can also be associated with good things. Fire can be used in a "controlled burn" to manage forests, benefit farming, and prevent wildfires. Within our hearts, Lent – turning away from sin and being faithful to the Gospel – can be a time for a "controlled burn." Fire can also be used for warmth and comfort. We need a "spark" to create a fire and we need to "fan the flame" to keep it burning. Our baptism provides the "spark" to enflame our hearts with God's love, and this time of Advent – preparing for the arrival of the infant Jesus – can be a opportunity to "fan the flame" of our faith and be warmed and comforted in God's love.
Prayer: Lord, please help me "fan the flame" of Your love that is within me.
Closing: Bless yourself with the Sign of the Cross and send your intention of love to others and into the world.
Vickie Griner is a Poor Clare Nun in Cincinnati, Ohio (www.poorclarescincinnati.org)
Advent Reflection for December 17th – Third Sunday of Advent (Gaudete Sunday)
Is. 61:1-22, 10-11, Luke 1:46-48, 49-50, 53-54, I Thes. 5:16-24, John 1:6-8, 19-28
Invitation to Prayer: Sit for a moment and ponder what it means to rejoice.
Reflection: Today's second reading from First Thessalonians begins: Rejoice always, never cease praying, render constant thanks… (I Thes. 5:16). This is Gaudete Sunday. Paul tells us to rejoice always. By now the rush is on in order to have everything finished in time for Christmas. Rejoice, you say. Are you kidding? Let's take a deep breath, close our eyes and just sit. This is the time for a deep dive down into our center to become quiet. Rejoice in the goodness of God. Rejoice in the mercy of God. Above all rejoice in the love of God. Yes, God loves us deeply, beyond where our imaginations can venture. Rejoice, allow ourselves these few moments within this season of hectic preparations to relax. Breathe in God's love and whisper thanks for all the ways God blesses us, even the ways that at first do not seem like blessings. Looking at those unappreciated blessings in retrospect we can see God's hand guiding us, holding us, being with us, so rejoice and sing thanks to our God. When we hear the Christmas music in stores, on the radio or wherever we could allow ourselves a moment to rejoice in the gift of God's love. That is what Christmas is all about – LOVE. We can get so caught up in the getting "everything" finished that we miss all the wonder of the season. Rejoice always and give thanks for God's presence among us.
Prayer: We come to you, our gracious One, rejoicing, giving thanks for your gift of love which is overwhelming, awesome, and far beyond our understanding. Help us to be focused on You rather than all that needs to be done. We praise and thank you, God, for always being with us.
Diane Jamison is a Sister of St. Francis, Oldenburg, IN. She serves as Director of On-Going Formation and Formation; she also ministers as a spiritual director.
Advent Reflection for December 18th – Monday of the Third Week of Advent
Jer 23:5-8/ PS 72:1-2, 12-13, 18-19/ MT 1:18-25
Jeremiah 23: 5: "Behold, the days are coming, says the LORD, when I will raise up a righteous shoot to David."
Invitation to Prayer: Breathe deeply and invite God into your prayer. Ask God to show you the deepest desire of your heart. For what do you long?
Reflection: "The days are coming." This promise offers encouragement to those who have been longing, sometimes in hope and sometimes not, to be restored to their land. Someday, God promises, a savior will come and bring justice and security. Someday.
We, too, live in a world where there is oppression, sadness, fear, and hunger; God's kingdom is not yet brought to fullness. Even though we know Jesus to be our longed-for savior, we still wait for fulfillment, for union with God, for justice. We, too, look toward "someday." During Advent we practice the spirituality of waiting as we prepare for Christmas. I don't know about you, but having to wait often makes me impatient and grumpy. However, God's patience is infinite and God's promises are trustworthy. During this season of intentional, hopeful waiting, can you and I try a little of God's patience while we also deepen our trust in God's promises? Waiting takes practice. Patience takes practice. Advent is an invitation to practice, and if we ask, God will help us.
Prayer: Loving God, deepen my patience and trust as I wait for fulfillment of that for which I long.
Closing: Look toward the rest of today or tomorrow. What opportunities could emerge to practice the spirituality of waiting? Set an intention to practice patience, and then reflect on how is God with you in your longing, in your waiting.
Leslie Keener is a Sister of Divine Providence who serves as the vocation director for her community. She is a spiritual director and minister to young adults and college students.
Advent Reflection for December 19th – Tuesday of the Third Week of Advent
Judges 13:2-7, 24-25 / Ps. 71:3-6, 16-17 / Luke 1:5-25
Invitation to Prayer: Try to recall the earliest memory of yourself as a child, not a story you've been told, but your own memory of how it felt to be unworldly, inexperienced and innocent. Invite your child-self to join you in prayer this day.
Reflection: What do you think of and how do you feel when you gaze upon a newborn baby? Are you struck with the perfection of each tiny finger and toe? Do you marvel at the little lips that work so hard just to utter a soft coo? Do you sense the purity and innocence they unknowingly possess? They are content just to be – as long as their basic needs are met – no guile, no personal agenda or duplicity, nothing less than a perfect expression of God's creativity and promise. What will they become? What gift will they be to the world? We praise God and sing of God's glory at the wonderment of the untold promise of each new life!
In both of our readings for today, the fidelity of God are made known to the people of each time through the promise and delivery of a child. With God's hand upon each of them, both Samson and John renewed the people's hope in God. Their devotion to the ways of God brought deliverance from oppression and made known God's presence among them. As we contemplate the birth of the Christ Child during this season of Advent, we are called again to live in hope and faithful confidence that God's promises of love, peace and salvation are ours. Nothing could be more marvelous than that!
Prayer: God, fill me with wonder at all you have done in my life and for the world. Help me to remain ever hopeful and confident that you are actively present and working among us to fulfill your promise of eternal life in perfect unity with you, source of all that is loving and good.
Closing: Resolve today to see each person you encounter with wonder and reverence for the creation of God that they are.
Andrea Koverman is a Sister of Charity of Cincinnati. She ministers as a program manager at the Intercommunity Justice & Peace Center focusing on ending the death penalty and peace and nonviolence initiatives. She also lives in a house of discernment and hospitality with three of her sisters called Visitation House.
Advent Reflection for December 20th – Wednesday of the Third Week of Advent
Isaiah 7: 10-14 / Luke 1: 26-38
Reflection: In the first reading from Isaiah, King Ahaz was fearful of the two kings mentioned just before our text begins. These kings presented a daunting challenge, one that Ahaz did not think he could overcome. He had forgotten that, as a descendant of David, God promised that his lineage would continue no matter what was going on in the world. The prophet Isaiah challenged Ahaz to have faith, but Ahaz decided he would rather live into his fear. Weary of Ahaz's fear, Isaiah declared that God would provide a sign – a woman who would have a son named Immanuel, God with us. God would remain faithful to Judah and its people no matter how fearful they were. In our Gospel reading, the angel Gabriel assures Mary that she need not fear, that she has found favor with God. And Mary responds in ways that Ahaz could not; she faces her fear and embodies faith and faithfulness to God's promise, though it seems impossible. She listens, receives and responds. In so doing, she shows us the way to surrender freely, without fear, to God's call in our own lives.
Prayer from Teresa of Avila:
Let nothing disturb you;
Let nothing frighten you,
All things pass away.
God never changes.
Patience obtains all things.
He who has God,
finds he lacks nothing.
God alone suffices.
Closing: Look for the annunciations in your own life today. In what ways is God calling you to move beyond fear to faith, perhaps faith that the impossible is possible.
Louise Lears is a Sister of Charity of Cincinnati. She currently serves as a Leadership Councilor.