Lay Perspective: Lent: Time to think 'March Glad-ness'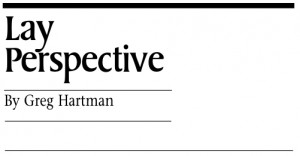 In this Year of Faith, we can celebrate the way the liturgical year is divided. We have two regular seasons (Ordinary Time), two playoffs (Advent and Lent) and the championship games (Christmas and Easter). So while the nation is to be enthralled in March Madness, we are in the teeth of our playoffs: March Gladness.
In our playoffs of Lent, we can have bracketology, except while we're in March Gladness it could be a time to dig in our hearts and to look at those things that still keep us from the Lord. Last month, I talked about sin and that's an obvious obstacle. Yet sometimes we hold onto past grudges, past hurts, past slights. I still can't watch the last two minutes of Super Bowl XXIII, where the Bengals were robbed of their just championship. I'm still upset the Reds didn't beat Oakland in the 1972 World Series (I was two that year).
Lent is a good time for us to look at the things we can let go of. Not only can Lent be a time to for penance, but a great time for healing. Maybe there's a family member or friend that did something to upset us; now is the time to reach out and mend fences. It's not easy, but we can look for God's grace to help us reach out. Similar to the NCAA Basketball tourney (six games), we have six weeks of Lent. We've had two Sundays, and now there are four left. Reaching out for God's grace and reaching out to those around us is March Gladness.
Another obstacle is our own vision of worthiness. It's difficult to understand God's grace and forgiveness, but it is there for the asking. We're not worthy, and not in the movie "Wayne's World" sense, but God chose us and God is waiting. We need to look no further than the story of the Simons: Simon Peter and Simon of Cyrene. In St Luke's Gospel, Chapter 5, we read about Jesus preaching from Simon's boat and then instructing the fishermen to lower their nets. After this astonishing moment of catching a great number of fish we read: "When Simon Peter saw this, he fell at the knees of Jesus and said, "Depart from me, Lord, for I am a sinful man." For astonishment at the catch of fish they had made seized him and all those with him, and likewise James and John, the sons of Zebedee, who were partners of Simon" (Luke 5:8-9).
Simon Peter didn't feel worthy and yet not only did Jesus choose him to be a disciple, but to lead His church. Simon of Cyrene was coming in from the country and I'm sure today we would say, "man my day was ruined." He could have been coming in for supplies, maybe to purchase something he had his eye on in Jerusalem, and yet will be forever remembered for being made to carry the cross of Christ.
God chose us to carry on in His church. In March Gladness, we open ourselves to that grace. If you think about it, if someone called and offered you seats to the Super Bowl or the Final Four, you would be pretty excited. Seats to the big dance are limited and can be pricey. Not for us. Baptism gives us the "super pass" to the big dance of meeting the Lord each and every week in the Eucharist. We don't even need to call a ticket broker!
If you're one to fill out your brackets for the NCAA tournament or cheer on your favorite college team, think also of our March Gladness. Open yourself to God's grace and celebrate that grace in this wonderful season of Lent.
++++++++
 Hartman is the circulation manager for The Catholic Telegraph