Student establishes foundation in mother's memory
January 23, 2012
By Patricia McGeever
ST. FRANCIS DE SALES DEANERY — Of the more than 41,000 students enrolled in Catholic schools in the Archdiocese of Cincinnati, close to 7,400 of them are not Catholic.
Their reasons for being there vary, but they put on the same uniforms, study in the same religion classes and attend Mass with their classmates.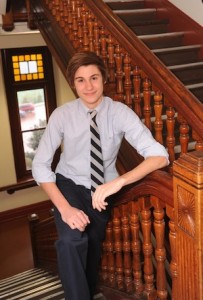 One of those students is Robby Wellington, 16, and a junior at Summit Country Day School.
"The Catholic education was greatly encouraged by my mom," said Wellington, who attended St. Ursula Villa for grade school.
During the summer of his sixth-grade year, his mother, Karen, passed away after fighting, and living with, breast cancer for 10 years. When it came time for high school, Wellington also considered St. Xavier, but the welcome mat rolled out for him at Summit was something that sealed the deal.
"I was indifferent about sending them to Catholic schools," said his father, Kent Wellington, about his son and daughter, Angeline, 14. He said his wife was insistent.
"Boy did it ever pay off. Having a school with a religion and faith component was huge. It helped them cope. There was a lot of openness and discussion about their faith and God and why this bad thing was happening."
Kent Wellington and his children attend Hyde Park United Methodist Church weekly. Sometimes they go to Nast-Trinity United Methodist Church in Over-the-Rhine (OTR) where Wellington and his father are active in a Saturday basketball program. The focus on community service that the children learned at home and is reinforced in Catholic school is put into practice in OTR.
Robby Wellington is taking this commitment to service even further as he steps forward as the spokesman for a foundation named after his mother. The Karen Wellington Memorial Foundation for LIVING with Breast Cancer works to improve the lives of women who are struggling after their diagnosis.
"There are so many great organizations that are helping find the cure. But one thing we do, because the cure might not be here for some of the women now, we try to help with that living part. So, we send these women on vacations, getting them away from chemo, all the therapy," he explained.
In 2009, the foundation sent five women and their families on vacations. The following year they sent ten. And, last year, the number doubled again, with 20 women and their families being sent on trips. They go to places like Hilton Head, Martha's Vineyard, Sea Island, Ga., and Traverse City, Mich.
Each year, the foundation's board works to secure donated locations for the trips. It also grants "spa days" and "girl's night out" opportunities to deserving women. It holds a yearly fundraiser to offset some of the costs it incurs. This year's event is titled "Karen's Gifts Forever in Bloom Bash" and will be held April 21 from 6:30-11 p.m. at Art Design Consultants in downtown Cincinnati.
Wellington, his sister and some of their friends are forming a "junior board" for the foundation to help focus on the needs of the children whose mothers are living with cancer. He hopes they can have fond memories of their mothers as he does of his.
"She was like supermom. She would coach my soccer team. There were times that the chemo or radiation, I can't remember which one, would be so bad she couldn't go out into the sun. She'd have my dad holding a big umbrella over her running up and down the sidelines coaching a game," Wellington recalled with a smile and chuckle. "She was the most amazing woman."
It's that spirit and spunk that the foundation hopes to bring out in other women whose lives are consumed with doctors' visits, treatments, sickness and financial worries.
As Weillington starts to grow into his new role, the Catholic education upon which his mother insisted has provided him a solid foundation.
"It was based more on feel for her initially. As years roll on, it was a wonderful decision to have kids in school with a daily religion class and faith foundation," says Kent Wellington. "We were guided to that school. I had no qualms about sending him to Summit."