40 Days for Life Campaigns Begin today – founder Shawn Carney will speak at Cincinnati Kickoff Rally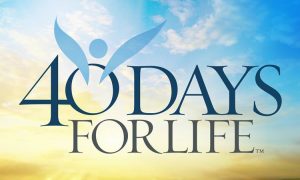 The national 40 Days for Life fall prayer campaign begins today, with a special event at the Cincinnati location – 40 Days for Life president and co-founder Shawn Carney will speak at the kickoff rally in front of the Planned Parenthood abortion center in Mt. Auburn.
The rally will begin at 7 pm on the sidewalk, according to Mary Clark, who has organized 40 Days for Life events in Cincinnati for the last 10 years.
"Invite your pastors, families and friends and find out how you can give public witness to the love of Christ in our city and become a part of a campaign which through simple prayer and outreach has helped closed 89 abortion facilities across the nation," Clark said.
The campaigns, which began in 1998 in Texas at one of Planned Parenthood largest abortion centers, have proved to be highly effective by combining peaceful prayer and fasting, witness, and community involvement. Participants sign up to pray in one-hour shifts front of 40 Day sites over a period of 40 days (the original protest, like all spring protests since, was held during Lent).
Other special events scheduled during the Cincinnati campaign are:
Friday evening group prayer: No sign-ups necessary for this prayer hour each Friday at 7 pm. Families and other first-time participants are especially invited to come during this time.
Nov. 4 Closing Rally/Prayer Hour of Thanksgiving: This 3 pm gathering will feature a special prayer leader and speaker, and will focus on giving thanks for the blessings received during the vigil. No sign-up is necessary.
40 Days for Life Dayton also officially begins today, although an opening rally was held Sunday at Lighthouse Apostolic Church in Dayton. Subsequent events will take place in front of the Haskell abortion business on Stroop Road in Kettering.
Special events scheduled during the campaign include:
Oct. 15 Midpoint Rally at 2 pm. Cincinnati Auxiliary Bishpo Joseph R. Binzer will lead the rosary and Reverends Katherine and Joe Marple will lead an interdenominational prayer service.
Nov. 5 Closing Rally at 2 pm: Father Stephen Imbarrato of Priests for Life will be the guest speaker.
Since the initial campaign in 1998, 40 Days for Life has spread to multiple locations in every state in the union, and in dozens of countries. The Planned Parenthood abortion center that started it all is one of more than 80 abortion center sites that have closed, and nearly 150 abortion workers have left their jobs. Abby Johnson, a Planned Parenthood manager who went to the 40 Days founders for help leaving the abortion industry, now runs And Then There Were None, a ministry dedicated to help people employed at abortion businesses find work outside the industry, something that is often difficult because healthcare organizations are reluctant to hire them.
To sign up for 40 Days for Life/Cincinnati slots, go to:
To sign up for 40 Days for Life/Dayton slots, go to: www.40daysforlife.com/Dayton
To sign up for 40 Days for Life/Cincinnati slots, go to: www.40daysforlife.com/Cincinnati
Both groups also have Facebook pages.