St. Mary Parish, Piqua, celebrates past, looks to future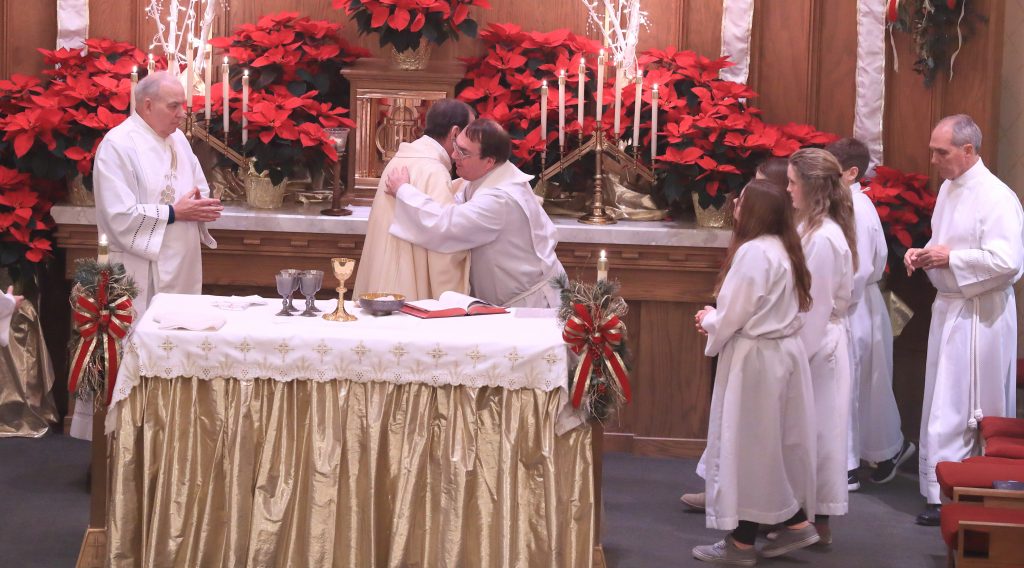 As St. Mary Parish in Piqua celebrates 175 years serving the Miami County community, younger parishioners are optimistic about a bright future.
"More young families are moving back. A lot more are coming back to town," said Melissa Galbreath, who with her husband, Patrick, returned from Louisville to their hometown for the small-town atmosphere.
Patrick Galbreath, an engineer at GE Aviation in Dayton, said the lure of moving closer to family and the love of a more relaxing lifestyle brought them home. They are raising six boys.
"We came back to be close to our family, and I think that's what more people are doing. In our little circle, we've noticed that the demographics are getting younger and that's good," he said. He added his commute to Dayton is about 45 minutes, and other parishioners with roots in Piqua travel as far as Columbus to work.
Another couple in their 30s, Trent and Andrea Karn, are Piqua natives. Andrea Karn joined the church through RCIA 16 years ago. Her husband was raised Catholic and attended St. Mary School, now Piqua Catholic Consolidated School. They have four children.
"A lot of young people wanted that big city life. But, there's a reverse reaction now. Some families see their kids coming back to be closer to parents. We have older parishioners; the older does outweigh the younger, but there are more and more exceptions," said Trent Karn, who is a project manager for Hamm's Glass, a large Piqua-based company that completes window installation projects large and small throughout the region.
"There are people who are willing to live in a small town and will commute to the big city. I see a little more of that, and it's nice," he said
In 10 years, "I hope to see a very vibrant young parish. I'm not sure it can happen without bringing in more industry and they are trying to bring business here. There's a push for development along the river (called) River Scape. And then there's the historic East (side) with thoughts about revitalizing there. It's all in the talking stage, but if they work, more people will come here and to church. There are people here who really want to see growth."
Andrea Karn described her parish as "warm and welcoming. There's a good mixture of ages. I am seeing more young people. A lot of them college students who moved away and now they're coming back to their hometown. I agree there's not a lot of industry here in Piqua, but I think in the surrounding areas there is. Piqua has become more of a commuter community. A lot of people work in Dayton and live here at or they work up in Ana area where there's Dannon Yogurt
One sign of a bright future is the consolidated school next to St. Mary, where Brad Zimmerman became principal last August, moving from a teaching job in nearby Sidney after finishing a master's degree.
There has been an uptick in enrollment to about 120 students after a few stagnant years.
"Today St. Mary's feels like a tight-knit family," Zimmerman said. noting that is partly due to the small town setting. "I see a lot of the same faces around town as I do during Mass and with those who volunteer at the school. It's nice to have those connections. You see folks in the same places. It's a place of familiar faces."
"Demographically, the parish is a bit older, but I am starting to see people in their early 30s — around my age, coming back and attending church. So many people in my generation have moved to the bigger cities — Columbus, Cincinnati being two — and I think people are starting to value the small community feel. They don't necessarily get that in Columbus or Cincinnati. That's true for us."
"Looking at the future, the large number of parish organizations, ministries and outreach opportunities provide many opportunities for young and old to use their talents in whatever way they desire," said Father Tom Bolte, pastor.
"The parish grade school, preschool, religious education program and high school outreach programs are excellent," he added. "The dynamic spiritual programs for men, women and youth, which invite non-parish members to attend, are powerful. The strong caring ministries to those in need in the Piqua area and mission relationships with a food co-op center in Chile, South America; medical clinic in Guatemala; and twinning covenant with St. John's/St. Louis Parish, Dominica, are exciting examples of sharing the love of Jesus with others."
Father Bolte called the 175th anniversary "a wonderful celebration of those in the past who built and sacrificed for the current parish community; for the current parish community that is faith-filled and continuing to live the Gospel of Jesus in word and action; for the future members of St. Mary Parish who will have such a strong foundation of faith and wonderful facilities, plus a beautiful church dedicated to God under the patronage of Our Blessed Virgin Mother Mary."