50th World Day Peace Mass to be celebrated January 1st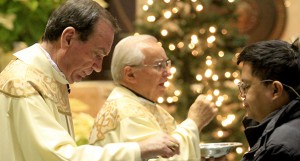 The archdiocese will mark the 50th World Day of Peace Jan. 1, the Solemnity of Mary the Holy Mother of God, with two special Masses.
Archbishop Dennis M. Schnurr will celebrate Mass at the Cathedral of St. Peter in Chains in downtown Cincinnati. Auxiliary Bishop Joseph R. Binzer will preside at a liturgy at St. Christopher Church in Vandalia. Both Masses begin at 11 a.m.
Pope Francis has announced that the theme for the World Day of Peace is "Nonviolence: A Style of Politics for Peace." In explaining the message, the Vatican states: "Such a political method is based on the primacy of law. If the rights and the equal dignity of every person are safeguarded without any discrimination and distinction, then nonvio­lence, understood as a political method, can constitute a realistic way to overcome arm conflicts. In this perspective, it becomes important to increasingly recognize not the right of force but the force of right."
Mass will be followed by a reception with light refreshments.
The World Day of Peace events are sponsored by the archdiocesan Offices of Catholic Social Action, Worship and Mission. For more in­formation, contact the Catholic Social Action Office at 513-421-3131, ext. 2660, or [email protected] in Cincinnati, and 937-224-3026 or [email protected] in Dayton.
For up to date Mass times throughout the archdiocese, click here