A Cornerstone of Rest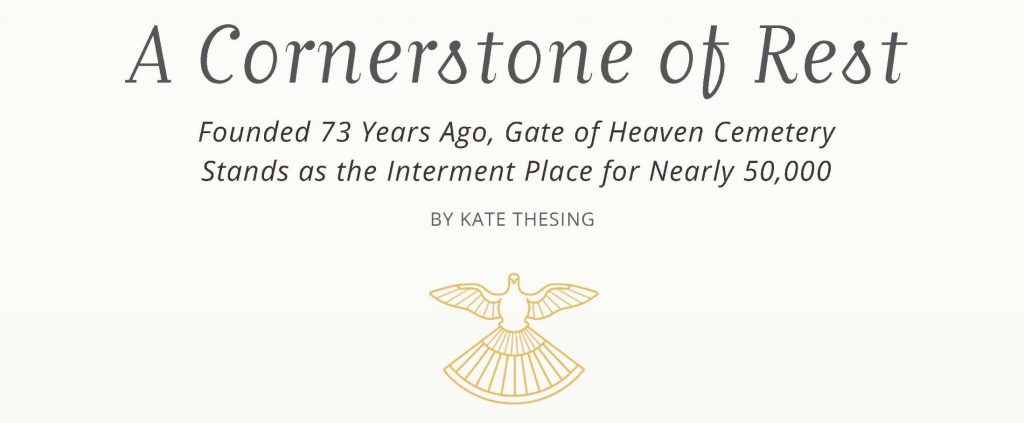 What began 73 years ago as a collection of seven farms purchased in the 1940s has evolved into a 160-acre cornerstone of the Archdiocese of Cincinnati: Gate of Heaven Cemetery. Under the administration of Archbishop John T. McNicholas, development of the land as the archdiocesan cemetery began in the mid '40s following the end of World War II, with the first interment taking place in 1948.
Today, Gate of Heaven has more than 46,000 interments and a collection of majestic, soaring oak trees, rolling hills, ponds, creeks and monuments. Located in the quaint village of Montgomery, OH, about 18 miles from downtown Cincinnati, Gate of Heaven is the tranquil centerpiece of a ministry of service.
The cemetery comprises 22 themed sections. Each section has a shrine related to a saint, the Blessed Mother, Christ, the Gospels and/or the Rosary. As the cemetery expands, they will add new themes within the Catholic tradition.
Gate of Heaven Cemetery's current administration building was dedicated in 1971 and functioned not only as a cemetery facility, but also as Good Shepherd Parish beginning in 1973. Good Shepherd Parish subsequently relocated to another area on the acerage.
MINISTRY OF CARE

Driven by its ministry, Gate of Heaven Cemetery provides no-cost infant interments for Church members who have suffered the loss of their child before age 2, including miscarriages. These graves are located in the Baby Garden section, which is anchored by a beautiful bronze statue of an angel cradling a child. The cemetery also partners with Mercy Health and provides space for the cremated remains of babies who have died pre-term. Additionally, they provide no-cost indigent interments at the direction of archdiocesan priests
In 1998, Bishop Carl Moeddel and Knights of Columbus from around the country gathered in Cincinnati for a pro-life convention during which they dedicated the statue "Rachel Mourns Her Children." Named for the biblical passage Jeremiah 31:15, which reads, "A voice is heard in Ramah, mourning and great weeping, Rachel weeping for her children and refusing to be comforted, because they are no more," the statue memorializes children lost to abortion.
RESTING PLACE FOR THOSE WHO SERVED

Archbishops, bishops and more than 100 priests lie in rest in Gate of Heaven Cemetery. Archbishop John McNicholas, whose administration developed the cemetery, passed away in 1950, two years after the cemetery opened. Also buried on this sacred site is Archbishop Karl Alter. Archbishop Paul Leibold, Archbishop Daniel Pilarczyk, Auxiliary Archbishop Nicholas Elko and Auxiliary Bishop Carl Moeddel also lie at rest in the Priests' Mound.
Also buried at Gate of Heaven is Army Staff Sergeant Keith Maupin, a prisoner of war (POW) during the Iraq War. Staff Sgt. Maupin was captured and missing for four years before his remains were returned to the U.S. Because of his interment at Gate of Heaven, the cemetery now has a designated Veteran's Garden to honor those who have made the ultimate sacrifice for our country. Other notable interments include Marge Schott, former owner of the Cincinnati Reds; Reds first baseman Ted Kluszewski; and Sonny Kim, a fallen Cincinnati Police officer.
Eighty acres of undeveloped land remain to take the cemetery far into the future. Upon this very special 150th anniversary of the Archdiocese of Cincinnati, Gate of Heaven Cemetery reaffirms its commitments to the sanctity of the human person, the belief in the resurrection and the virtue of hope.
This article appeared in the June 2021 Bicentennial edition of The Catholic Telegraph. For your complimentary subscription, click here.