Adams County 'Farm Mass' well attended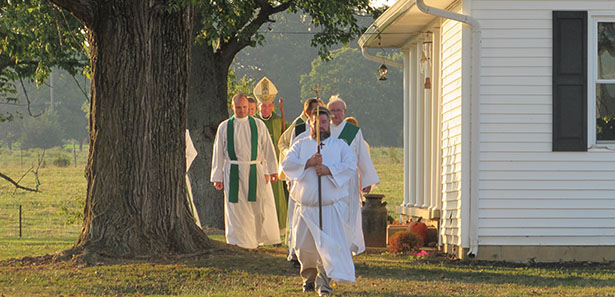 Staff Report
WEST UNION — The second of two "Farm Masses" celebrated annually in the Archdiocese of Cincinnati took place Sept. 5 in Adams County. Archbishop Dennis M. Schnurr celebrated Mass at the property of Randy Louiso in West Union. The host parish was Holy Trinity, also in West Union.
The event was the annual "Farm Mass" for the St. Martin Rural Life Conference. The St. Marys and Sidney Deaneries Rural Life Conference "Farm Mass" took place in June in St. Henry, Ohio.
Concelebrating with Archbishop Schnurr were Father Dohrman Byers, Father Theodore Kosse, Father William Stockelman and Father Jason Bedel.
Estimating a crowd between 250 and 300 people, Catholic Social Action Office Director Tony Stieritz said the event was well executed all around.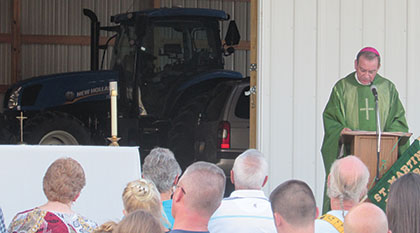 "It was a gorgeous day," Stieritz said. "The farm was beautiful. All those who planned it and put so much time behind it did a really wonderful job making this a special celebration. The archbishop's homily was thought provoking and I think people really enjoyed it all around."
Archbishop Schnurr, a native of Sheldon, Iowa, said the "Farm Mass" reminded him a bit of home.
"They bring me back to my roots of rural Iowa, although last evening it was a little bit warm," he said Sept. 6 at the Archdiocesan Pastoral Council meeting.
According to Stieritz, the "Farm Mass" was the first in Adams County in more than a decade. Holy Trinity, and St. Mary Queen of Heaven in Peebles, are the only Catholic parishes in Adams County, which is located east of Brown and south of Higland county, marking the southeastern edge of the Archdiocese of Cincinnati. It borders the Diocese of Columbus to the east. The county population is just less than 30,000.
Posted Sept. 12, 2014