ADF sues Miami University on behalf of pro-life club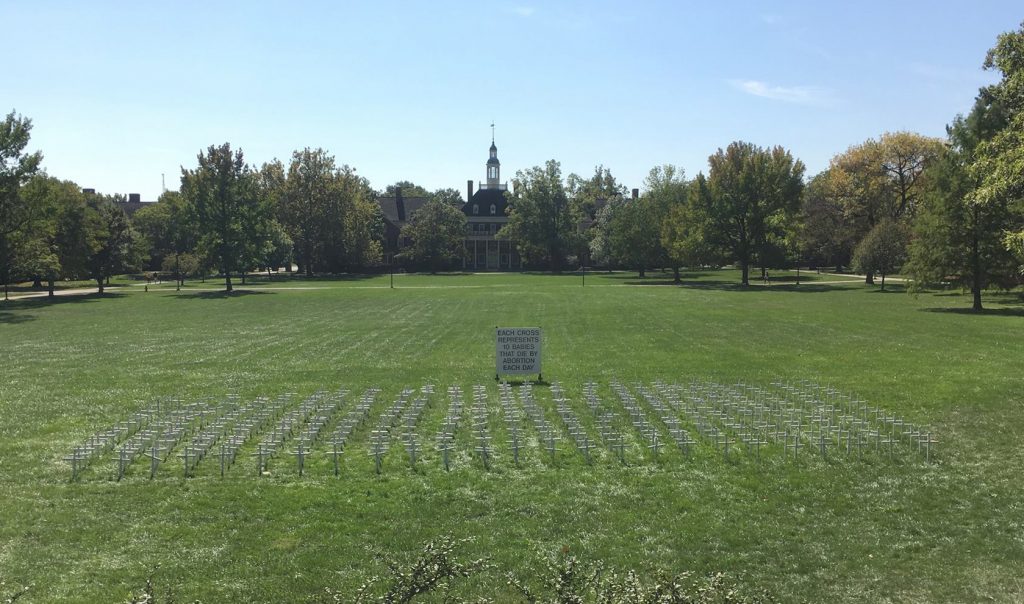 By Gail Finke
The non-profit legal association Alliance Defending Freedom (ADF) filed a federal lawsuit against Miami University yesterday after its Hamilton campus told a student pro-life group it could erect a "Cemetery of the Innocents" display this fall only if it posted "trigger warning" signs throughout campus.
Miami University's Students for Life of America chapter (SFLA-MUH) has erected the display, a set of small crosses erected on a lawn to symbolize children killed by abortion, annually since 2015. This year, the suit says, a university official told the group's president Ellen Wittman that seeing the crosses might cause some students "emotional trauma," and offered to meet with the group about "less harmful" ways of expressing its message.
"No university official has the authority to censor student speech simply because of how someone might respond to it," ADF Legal Counsel Travis Barham said in a statement issued Nov. 29. The suit claims that the university's restriction violates the First and Fourteenth Amendments, and imposes unconstitutional conditions on the club members' free speech.
In 2015, when the display was erected for the first time, a Women's Studies professor at the school encouraged one of her classes to help her remove it. The club put the display back up for the remainder of its two-week permit, and displayed it again in 2016. That year, the suit alleges, the university required the group to put up a sign identifying their sponsorship of the display, but allowed a pro-abortion group to demonstrate and hand out literature without applying for permission from the university.
After submitting its request this year, the suit alleges, SFL was allowed only one week for the display, and was told to place signs around campus explaining what the display was and directing people to contact Whittman, by name, with any questions. The display "is quite polarizing and causes a lot of unrest on campus," Director of Student Activities and Orientation Caitlyn Borges explained in an email to Wittman. When Wittman asked if the signs were a request or a requirement, Borges replied that they were required.
"In saying all of this, Defendant Borges made it clear that she imposed this additional requirement on Students for Life at MUOH after evaluating the content and viewpoint of its expression, including possible reactions to the display," the suit alleges.
Rather than put up signs with messages it did not wish to make, the group decided against erecting it. The suit asks that the group allowed to be erect its display without any requirements and cites several recent student group displays on "reproductive justice," violence against women, and violence against transgender people — all of which SFL members say could be suspected of causing "emotional trauma" to viewers — that were permitted to be erected without signs identifying the sponsors and without "trigger warnings" posted on campus.
The case was filed in U.S. District Court on behalf of four officers of the club, and names the Miami University Board of Trustees, President Gregory Crawrord, Interim Associate Provost Cathy Bishop-Clark, and officials in the Student and Academic Success and Student Activities and Orientation departments, including Borges, as defendants.
Alliance Defending Freedom is a non-profit Christian law firm that provides free legal representation for cases involving Freedom of Religion, marriage and family, and sanctity of life. It has been labeled a "hate group" by the Southern Poverty Law Center for its defense of marriage. Last summer founder Alan Sears and his wife were inducted into the Order of St. Gregory, a papal knighthood given for extraordinary service to the Catholic Church, for their work defending religious freedom.
Students for Life of America is the country's largest pro-life student association, with more than 1,000 chapters in high schools, colleges, and medical schools.
Thomas Kidd, Jr., of West Chester-based  Kidd and Urling, LLC, will handle the case locally.
Paula Westwood, Executive Director of Right to Live of Greater Cincinnati, called on the university to treat all clubs equally. "Pro-life cemetery of the innocent crosses are hardly threatening," she sad. "Would we say the same about Arlington Cemetery?
"If campuses are to truly promote free speech, then the administration must apply rules with an even hand to all groups that demonstrate, not single out those who call attention to the human rights abuse of abortion by dictating unreasonable forced speech according to another's agenda."
Read the complaint for Students for Life at Miami University of Ohio, Hamilton v. Trustees of Miami University of Ohio here.