Advent Feast Days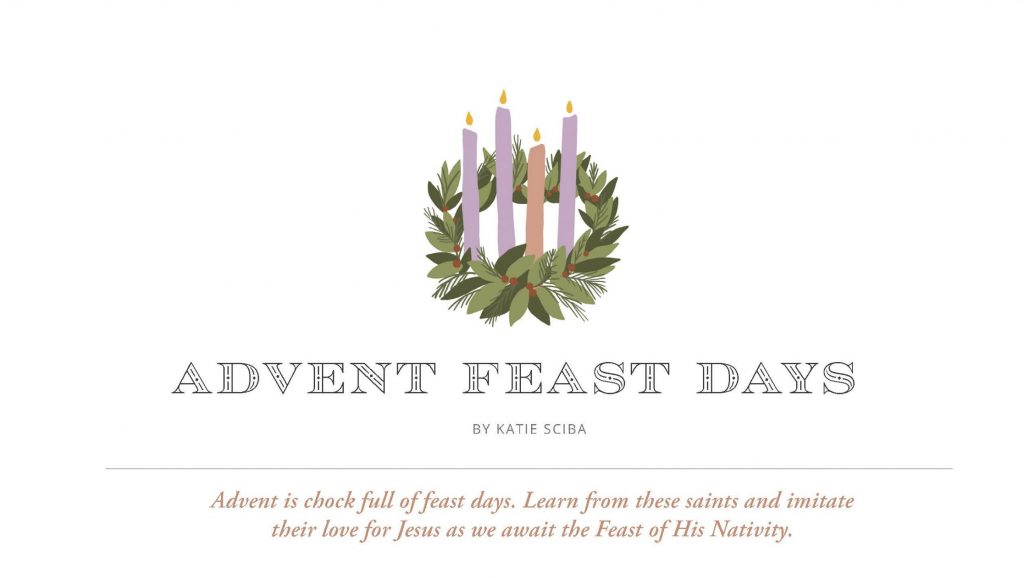 St. Andrew Nov. 30
The scriptural stories of St. Andrew the Apostle are compelling. He was the first to tell his brother St. Peter about Jesus. Fishing alongside Peter, the two abandoned their work when Christ beckoned them to be "fishers of men." Later, when Jesus chose His 12 disciples, Andrew was the first He called. In scripture, Andrew's responses are immediate, indicating his confidence and trust in the Lord.
How can we celebrate?
Have fish for dinner tonight whether it be a lovely salmon steak or fish sticks if you want to keep it simple. Recall occasions when you felt moved to follow Jesus and left behind a way of thinking or behaving to do so. Share these occasions with your family. Ask for St. Andrew's intercession, that you may see more clearly what you need to leave behind in order to become a disciple.
St. Nicholas Dec. 6
Depicted as a rotund, jolly gift-giver in secular art, St. Nicholas would stun modern society with his boldness. His secret gift-giving was less charming than heroic when he saved three young women from prostitution by dropping gold coins into their home, providing dowries for marriage. He left gold coins in people's shoes and he also gave to families in need, leaving money in stockings hung to dry and warm by the fire.
How can we celebrate?
A sweet tradition is to leave candy in children's shoes the night before the feast of St. Nicholas. Chocolate coins are the perfect treat. St. Nicholas gave out of love for God, so maybe use this day for more radical generosity. Create a care package of a blanket, socks and toiletries to give to a homeless person; offer a financial gift to someone you know needs help. Ask the intercession of St. Nicholas for your increased generosity of spirit, then give without counting the cost.
Immaculate Conception Dec. 8
It is impossible to overstate the profundity of this feast day. The Marian dogma of the Immaculate Conception holds that Mary was free from original sin from the moment she was conceived, making her a flawless vessel for the Incarnation. There was great controversy among the Christian world as authorities of various faiths doubted or disputed Mary's sinlessness, yet the Church remained firm. In 1858, Mary affirmed the truth herself in an apparition to St. Bernadette Soubirous, "I am the Immaculate Conception."
How can we celebrate?
The Feast of the Immaculate Conception is typically a Holy Day of Obligation. During the dispensation, attend Mass in person if you can, or participate online. Make a spiritual Communion and pray the Rosary with your family. Use white household objects during the day – white candles, plates, clothing, etc., to commemorate Mary's sinlessness. Ask for her intercession for your own repentance and purity of heart.
Our Lady of Guadalupe Dec. 12
This precious apparition in Mexico conveys the tender motherhood Mary has for us. Our Lady appeared to St. Juan Diego on Tepeyac Hill near present day Mexico City. In a moment of concern about his ill uncle, Mary spoke lovingly, "Am I not here, I, who am your Mother? Are you not under my shadow and protection?[…]Let nothing else worry you, disturb you." St. Juan Diego went to his bishop to delivery Our Lady's request that a chapel be built on Tepeyac. When the bishop required proof, Mary arranged miraculously grown roses in Juan Diego's tilma. When he showed the roses to his bishop, the image we know as Our Lady of Guadalupe shone to all in the room.
How can we celebrate?
What Mary desires most is our closeness to Jesus. Attend Mass online or in-person. Pray the Rosary to reflect on Christ's life with Mary, turning to her as your own mother. Turn on the old St. Juan Diego cartoon on Formed.org and let your children enjoy. Prepare your favorite Mexican dish.
St. Lucy Dec. 13
St. Lucy was sentenced to death as a young girl when she refused to marry because she had vowed to remain a virgin. Initial attempts to kill her were thwarted. When guards came to take her away, they could not move her. Attempts to burn her also failed. They eventually killed her by decapitation.
How can we celebrate?
Throughout the world, we celebrate Saint Lucia's Day on Dec. 13. Her name means light, and you can have your own celebration at home with candles, or by lighting a fire for warmth. Create special St. Lucy's donut crowns with your family (see page 26 of this issue for inspiration). She is the patroness of the blind, so pray with your family for the disabled on her feast day.
The feast days during Advent all point to the glory of Christ's birth and presence on Earth. Whether your celebrations are modest or significant, turn to these saints as examples for how to draw closer to and imitate Jesus.
This article appeared in the December edition of The Catholic Telegraph Magazine. For your complimentary subscription, click here.