Advent Reflections by our Seminarians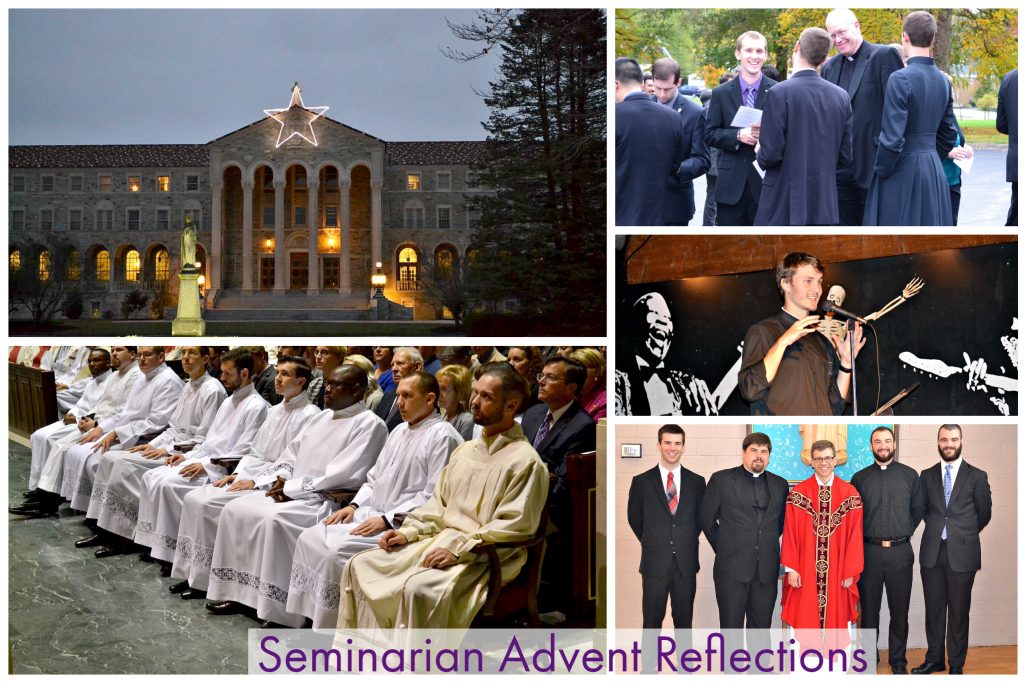 December 12th, Feast of Our Lady of Guadalupe
Deacon Ambrose Dobrozsi
The appearance of Mary to a poor, native Mexican in 1531 is quickly approaching its 500th anniversary. Even though it is so far in the past, it holds incredible relevance for our journey of faith today. I think especially for Advent, some aspects of the story of Our Lady of Guadalupe are very fruitful. One in particular that comes to mind is how Our Lady chose to appear.
At the time when Mary appeared to St. Juan Diego, there was a controversy in the church in Mexico about allowing the natives to continue some of their traditions. The Spaniards who brought the faith were having difficulty converting the Aztecs and other tribes, prohibiting them from practicing the pagan acts of piety that they had known for centuries. Some came to know Christ, but very few. But then Mary appeared to a native, and she was dressed as an Aztec princess. This was a radical shift in the problem. Mary took on the likeness of the poor and the native, but she truly remained herself – the mother of Jesus, totally faithful to God in every way. By building a shrine in her honor and paying devotion to her, millions were converted within a very short period of time. The truth of the faith could stay the truth, expressed in a different language.
We see a similar argument in our culture today around Christmas time. Many Christians feel that our traditional celebration of the coming of Christ has been hijacked by secular and consumer culture. Can we still get spiritual benefit from a normal Christmas when Santa is an ad for soft drinks and very few songs on the radio mention Jesus? Instead of totally shunning the broader culture's Christmas, I think that we can follow our Lady and use what of it is good. By keeping an internal spirit of poverty and generosity, we can participate in gift buying without selling out to the big companies looking to turn a profit. By dedicating our hearts to Christ and seeking to serve Him first, we can sing along to the carols without worrying that we'll destroy our Advent. Christ desires to be praised and worshiped always and everywhere; by turning to Him, any culture can be brought to the light.
December 13th, Thursday of the 2nd Week of Advent and Feast of St. Lucy
Deacon Andrew Hess
St. Lucy had the vision of our Lord. She had the interior illumination of faith that meant the eyes of her soul saw things rightly. She could heroically sacrifice her vision when her persecutors gouged out her eyes, because she was content with the interior vision of God she constantly beheld. In that moment of her life, we can imagine that God comforted St. Lucy with the words "I am the Lord, your God, who grasp your right hand. It is I who say to you, 'Fear not, I will help you'" (Isaiah 41:13). By grasping her hand, the Lord led St. Lucy through the violence of this world. We hear today that "The kingdom of Heaven suffers violence, and the violent are taking it by force" (Matthew 11: 12). At first glance, we might think that this was what St. Lucy experienced, that she suffered this violence. But an alternate rendering of this verse says that "the Kingdom of Heaven is erupting forcefully, and the forceful are seizing it." What this means, in fact, is that the Kingdom of Heaven breaks upon our world with great force, and it is only those who strive to have the same force of spirit and virtue that are able to grasp it, to seize it, and to cling to it. When the force of this world comes upon us, we must respond even more forcefully with Christian faith, hope, charity and zeal, and persevere in making the Kingdom of God present in the midst of this world – dark and troublesome as it often is. Only by setting our interior sights on the Lord can we see what we must see in order to develop this force of character. "Repent and believe in the Gospel," our Lord says, "the Kingdom of God is at hand" (Mark 1:15).
If we want to see the Kingdom, we must repent, and then after repenting we must believe. St. Lucy shows the price of such belief, but she also reveals the reward. Blinded though she was, St. Lucy showed that her assailants were the truly blind ones by her heroic witness to the value of God's Kingdom over the kingdom of the world. Would that we were all a bit more like St. Lucy.
December 14th, Friday of the 2nd Week of Advent
Deacon Jedidiah Tritle
In today's Gospel, Jesus points out the contradictory complaints of the crowds concerning John the Baptist and himself. John fasted and lived an austere life, but he was accused of being possessed by a devil. Jesus "ate and drank," but was accused of living too lavishly as a glutton and drunkard. Jesus observes that there is no pleasing those who refuse to seek the Kingdom of Heaven. Jesus leaves the way open to any who seek it; but Jesus' way just isn't good enough for some folks.
Perhaps you have heard someone say that the church would be more relevant if she changed "this" or "that" teaching. The church needs to "get with the times," some say. Church doctrine should be determined by the "sense of the faithful," others say. I wonder: would these same folks have thought that John was possessed, or that Jesus was a glutton and drunkard? Just like the Jews in Judaea, there is no pleasing those who refuse to walk the path that Jesus has laid out for our salvation.
We still have 10 days of Advent left until the Christmas festivity begins. The time of preparation for the Nativity is beginning to wind down, and we can begin to reflect upon how effective our Advent preparation has been. Perhaps we should seriously ask ourselves the question: is the Jesus we await the Jesus of the Gospels or the Jesus of our own fashioning? Will we accept the way He has laid down for us in the church, or will we refuse to be happy until we get a salvation of our own choosing? Let it never be said of us that we refused the call of the Lord. Rather, let it be said that we danced to the flute, mourned to the dirge, fasted with those who fast, and rejoiced with those who rejoice.
December 15th, Saturday of the 2nd Week of Advent
Matthew Zwilling
"The LORD is my God." That is what the name Elijah means, a name that speaks of his deepest identity. "The LORD is my God, not Baal." Elijah's entire existence is about right worship, about the worship of God alone.
And this is true of the new Elijah, as well: John the Baptist. "Behold the Lamb of God." With Elijah, we hear John the Baptist speaking to us, "Behold the Lamb of God. Do not look to what normally preoccupies you. Do not regard as important your job, or your possessions, or your social standing among friends. Do not look to those things. Behold the Lamb of God, and worship him alone."
In Advent, God draws us to right worship. He calls out to us, to free us from looking down at our own projects, from having our gaze locked on the ground and the dirt, on the insignificant things that we give so much attention. "Look up!" He tells us, "and I will show you what you are to worship." To be free from the self, free from the tyranny of our own whims and selfish wants–that is true freedom. It is right worship that unshackles us from egoism and makes us free to love others. When we have chained ourselves to love, then we are free.
And Love is coming into the world, in the person of Jesus Christ. In our day, the concept of sacrificing our freedom, of subjecting ourselves to another and allowing that other person to shape the direction of our life, is met with fear and derision. But for life to be mastered, it must have a master. Only when we call Jesus "Lord" are we capable of transcending ourselves and receiving the goodness of God. "He takes nothing away, and He gives you everything," Pope Benedict said. To be chained to Him, to belong to Him, to be transfixed by Him, to live by Him, to know Him, to find joy in Him, to worship Him – that is true freedom.
December 16th, 3rd Sunday of Advent
Matthew Zwilling
The crowds around John the Baptist are sincerely questioning: now that we are baptized, now what? What are we to do? How are we to live? What was clear to them is not always so clear to us: faith entails reform of life. Faith needs conversion if it is to be authentic. John's answer boils down to this: Now that you are baptized, live a just life. Do not defraud, do not withhold, do not extort. Rather, practice justice.
If we are looking for an example of a "just man" in Scripture, it's St. Joseph. In the strict justice of the Jewish Law, the just penalty for an unmarried woman like Mary becoming pregnant was death. In fact, by allowing her to die, Joseph could have made himself just in the sight of others: the man of integrity and strength, who would not let his affection for his betrothed enfeeble his zeal for righteousness. But Joseph's justice surpassed the justice of the Law: instead of death, he chose compassion, deciding instead "to divorce her quietly."
Joseph did everything quietly. There is no word of Joseph ever recorded in Scripture. This was a man who loved God, who remained faithful to his designs. Complaints and questions never passed his lips, because It was enough for him to know the one who instructed him. His justice did not seek out an audience. What value would that have for him? His heart belonged to God. For one who has God, no other reward is necessary.
We don't know if Joseph was still alive at the time of John the Baptist's preaching. But if he was, we can be sure he would join his faith to a sincere conversion of life. His faith was real, effective, living. No one who encounters God in the depths of their heart can honestly say that they are "good enough," that their lives measure up to the sublime holiness of God. The encounter between our unworthiness and the worthiness of God: that is the source of justice. To know at once that we do not compare with God's holiness, and at the same time that His holiness will make us just. St. Joseph had this complete trust in God's goodness. Faith led to justice. It is the same in us.