After two years in office, Pope Francis has 90 percent favorable rating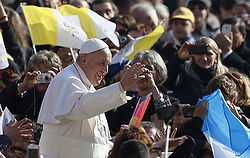 By Catholic News Service
WASHINGTON  — Two years after he was elected pope, Pope Francis' popularity rating among U.S. Catholics is at 90 percent, surpassing Pope Benedict XVI's best-ever popularity, and rivaling that of St. John Paul II.
Pope Francis, who is scheduled to visit Washington, New York and Philadelphia in September, garnered a "very favorable" view from 57 percent of U.S. Catholics, and "mostly favorable" from another 33 percent.
By comparison, Pope Benedict's highest favorability rating was 83 percent in April 2008, when he visited the United States. St. John Paul achieved favorability scores of 93 percent in May 1990 and June 1996, and 91 percent in May 1987, four months before his second U.S. visit. All of those scores were nearly a decade or more into his papacy.
All polls were conducted by the Pew Research Center, which issued its findings March 5.
Pope Francis scored 84 percent favorability at his March 2013 election, dipped to 79 percent that September, then rose to 85 percent in February 2014.
Among all Americans in the Pew survey, Pope Francis' favorability ratings also have increased over the past two years. He started at 57 percent at the time of his election, inched upward to 58 percent the following September, increased to 66 percent last year and hit 70 percent this year.
In the latest survey, there was no segment of the U.S. population where Pope Francis did not gain majority favorability. In fact, every segment gave the pope a margin of at least 5-to-2 support.
Catholics who said they attend Mass regularly gave Pope Francis a 95 percent favorability rating, including two-thirds who said they held a very favorable opinion of the pope.
Pope Francis also gained favorability ratings of 90 percent or better among Catholic women, non-Hispanic whites, those ages 50 and up, Democrats or those who lean Democratic, and conservatives.
"This nearly unanimous approval of the pontiff is striking even for highly observant Catholics," said a Pew report detailing the survey findings.
Even the worst margins for Pope Francis among certain categories of Catholics would be the envy of any other public figure. Those who identified themselves as Republican or leaning Republican were 89 percent-10 percent in favor of the pope. Liberals were 87 percent-11 percent for the pontiff. And among those who go to church less often, Pope Francis scored an 86 percent-10 percent margin.
The survey was conducted Feb. 18-22 on both landlines and cellphones among a national sample of 1,504 adults. The margin of error for the whole group was plus or minus 2.9 percentage points.
Posted March 6, 2015