An end and a beginning at McAuley HS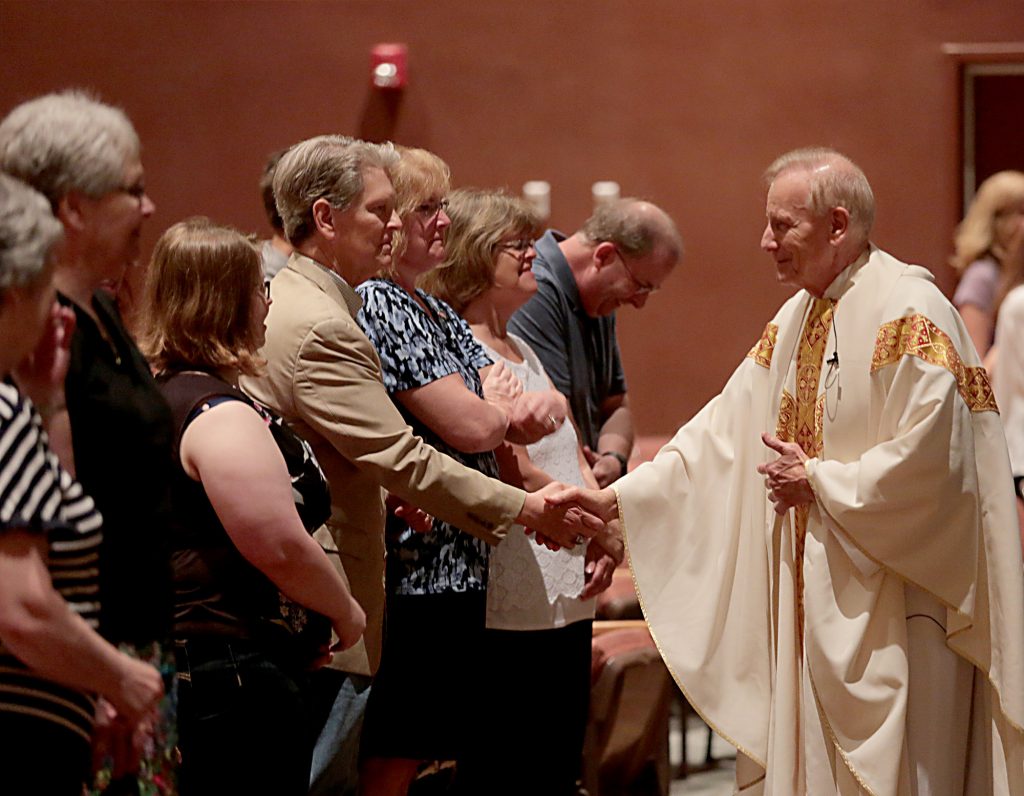 Goodbye Mass ends in tears, laughter; new school to open in fall
This story first appeared in our July, 2018 print edition
By Eileen Connelly, OSU
Hundreds of members of the McAuley High School community, including alumnae, students, parents, faculty, and friends came together May 27 for a final Mass and blessing that marked the end of an era for the school, as well as a new beginning. 
     Established by the Sisters of Mercy, McAuley opened in 1960 with an enrollment of 200. In March 2017, the sisters announced both McAuley and Mother of Mercy would close due declining enrollment. In their stead, the new Mercy McAuley High School will continue the tradition of helping young women grow in their faith and develop their talents at the former McAuley campus in College Hill. 
      "I'm feeling a sense of loss," said Kelley Kluener, a 1984 graduate. "I'm a crier, so I cried at the Mass, but the important thing to remember is that Mercy education is still vibrant in our community. I feel like everyone is ready for the future." 
     Kluener, who spent 18 years as a Catholic school educator, said the faith and dedication of her teachers at McAuley inspired her career path. Her mother, Shirley Frey, has also been a role model, teaching chemistry at McAuley. Frey will continue on the faculty at the new high school. 
     Kluener's daughter, Elena, who graduated last year, has fond memories of helping her grandmother in the school's chemistry area after classes ended for the day. When it came time to decide on a high school, McAuley was the obvious choice. "It was part of my life from the time I was a little kid. I just grew up knowing McAuley,"
she said. 
      "It was hard singing the alma mater for the last time," she admitted, "But I think this is the best option for both schools."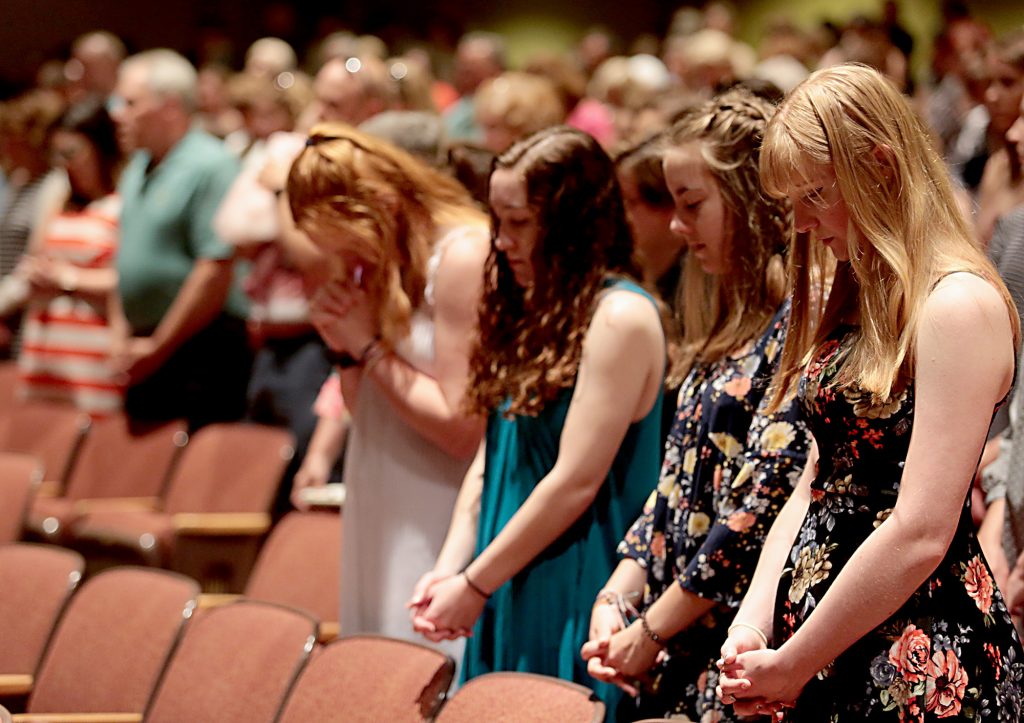 "I'm feeling really good about things," said Pam Vissing, class of '75, who has spent her entire career at McAuley and is looking forward to serving on the faculty at the new school. During her time as a student, "the best thing for me was the teachers. Their level of dedication was
just astonishing." 
     Vissing particularly remembers beloved faculty members Sisters of Mercy Mary Perpetua Overbeck and Mary Amadeus Richter. "Sister Perpetua would just put the fear of the Lord into you, but she was the kindest, most gentle person I knew," she recalled. "I did my student teaching at McAuley, and Sister Amadeus later offered me a job. I'll always be grateful for the opportunity to help the Sisters of Mercy mission continue." 
     She praised the work of the Transition Committee in creating a new institution that will further that mission. "Everything looks different at McAuley. They've been painting, changing the classrooms, and redoing the front and back of the building," Vissing said. "It feels like a whole new school — not Mercy, not McAuley. The students will have chance to establish new traditions, to be there from the ground up. I think anyone who visits the new school will be surprised at how wonderful it is." 
     For Jenny Freese, a 1995 McAuley alum whose daughter, Katelyn, will be a member of the first graduating class of Mercy McAuley, the memories are bittersweet and the future full of promise. She recalls father-daughter dances, class retreats, wonderful teachers and the bonds of sisterhood that accompany attending an all-girls high school. 
      "I was really blessed by my time at McAuley," said Freese. 
     She said she appreciates the efforts made by school leaders to bring students from Mercy and McAuley together during the transition. "They've been part of the journey and able to give input on what they would like to see at the new school," she said. "They already have a bond and that's something really special for them."
      "This has been a journey for all us," added Freese. "There's such a long history with both schools. There's sadness about what's coming to an end, but I don't think sadness and tears are a negative thing. It's a reflection of how wonderful both educational institutions were and how important they were to people for so many years. Now we'll have the opportunity for more girls to experience a Mercy education." 
     This fall the new Mercy McAuley High School for girls will open in the former McAuley High School campus.
     See the June issue for our story on Mother of Mercy alumae, "Mercy Alumnae Look Back," or search "Mother of Mercy" at The CatholicTelegraph.com.
     See our February Catholic Schools Week special for our story on the Mercy McAuley High School name, logo, colors, and mascot, or search "Mercy McAuley" at TheCatholicTelegraph.com.