April edition of The Catholic Telegraph to arrive Good Friday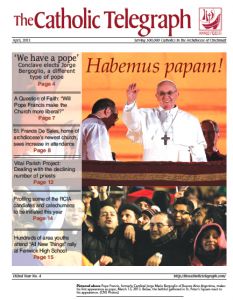 Staff Report
ARCHDIOCESE OF CINCINNATI — The April edition of The Catholic Telegraph, scheduled to be in mailboxes on Good Friday, likely ends the intensive non-stop coverage of the pope.
The activities of the Holy Father will always be reported on in these pages —this month includes a special four-page section on Pope Francis — but with the conclave, installation and transition mostly in the past, we're beginning to get back to business as usual as the church.
For The Catholic Telegraph, that means getting back to our focus on local news. This issue includes a stories with a parish-based focus. There's one on the newest church building in the archdiocese, St. Francis De Sales in Lebanon. Another story looks at the a magazine published by St. Martin of Tours in Cheviot detailing the parish history.
There are also three RCIA profiles on parishioners — from Amelia's St. Bernadette, Reading's Sts. Peter and Paul and Mt. Lookout's Our Lord Christ the King — fully entering the church this Easter.
There's also a letter from Archbishop Dennis M. Schnurr, stories about a former supermodel, immigration, education, sports, the Everyday Evangelist feature and the usual stellar lineup of commentaries.
If you have a question or concern about subscriptions, please let us know: [email protected]