Archbishop Broglio Issues Statement on Ship Collision Involving the USS John McCain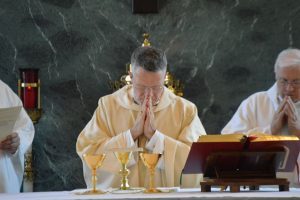 WASHINGTON, D.C. – His Excellency, the Most Reverend Timothy P. Broglio, J.C.D., Archbishop for the Military Services, USA, issued the following statement today on the ship collision involving the USS John McCain:
"Once again the shepherds and faithful of the Archdiocese for the Military Services, USA, raise our voices in prayer for the deceased, injured, and remaining members of the crew of the USS John S. McCain, which collided with another ship last night. We pray for the repose of their souls and for the families who mourn such a tragic loss.
Mindful of those who defend the nation in troubled times and in danger, we renew our prayers for a just and lasting peace in the world."
---
The Archdiocese for the Military Services, USA (AMS), was established as an independent archdiocese by Pope Saint John Paul II in 1985 as the only Catholic jurisdiction responsible for endorsing and granting faculties for priests to serve as chaplains in the U.S. Military and VA Medical Centers.
AMS-endorsed priests serve at more than 220 U.S. Military installations in 29 countries, making the AMS the nation's only global archdiocese. AMS-endorsed priests also serve at 153 VA Medical Centers throughout the U.S.
The AMS service population also includes American Catholic civilians working for the federal government in 134 countries, but currently, due to limited resources, the AMS cannot adequately serve this population.
Worldwide, an estimated 1.8 million Catholics depend on the AMS to meet their spiritual and sacramental needs. For more information on the Archdiocese for the Military Services, USA, visit milarch.org, the only official website for Catholics in the U.S. Military.