Archbishop calls immigration reform debate a 'defining moment' for U.S.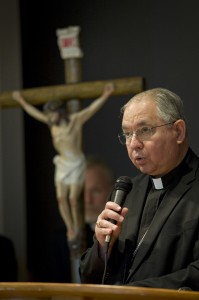 By Bill Howard Catholic News Service
DENVER (CNS) — The nation's heated debate over immigration reform this summer is "a defining historical moment for America" and "a moment for national renewal" Los Angeles Archbishop Jose H. Gomez told hundreds of attendees at the closing keynote address of the Catholic Media Conference June 21 in Denver.
Archbishop Gomez was initially scheduled to talk about the Catholic media and the new evangelization and praised conference attendees as "absolutely vital to the church's mission of the new evangelization. … Our world needs a vital Catholic media presence — on every platform from print to digital. You are engaged in a noble vocation of witness and service to the church."
But Archbishop Gomez decided to shift the main thrust of his keynote address to immigration reform, which he called "the most pressing issue that we face in American public life."
"I'm Mexican by birth and an American citizen by decision," he said in an address titled "Immigration Reform and the Next America." He noted that this issue is "more than personal. For me, our national debate about immigration is a great struggle for the American spirit and the American soul. Immigration is a human rights test of our generation."
Among the issues being debated now in Congress are reunification of families; border security; amnesty and its effect on government welfare programs; trafficking of women and youth; work protection; and a legal path to citizenship for immigrants who entered the country illegally.
Current legislation in the U.S. Senate aims to allow an estimated 11 million undocumented immigrants to apply for U.S. citizenship while also adding manpower to the U.S. border.
Archbishop Gomez asked attendees to take a step back from the debate and remember "our immigrant roots."
"Because we are an immigrant church, this debate over immigration is a debate about the future of the church and our Catholic people," he said. "The Mexicans and other Latin Americans at the center of this debate — the millions whose fate is being decided by our politicians — are mostly fellow Catholics."
Archbishop Gomez, who is chairman of the U.S. Conference of Catholic Bishops' Committee on Migration, said that reaching a decision on immigration reform is one of those major trials that a nation faces in its lifetime.
"How we respond to the challenge of illegal immigration will measure our national character and conscience in this generation," he said. "And in this historical moment, there's a great role for the church to play."
Archbishop Gomez said that Catholics "have a moral obligation … to contribute to these discussions. We need to help our neighbors see that immigration is about more than immigration."
Larger questions to ask, he said, include: "What is America?" "What does it mean to be American?" "What will the 'next America' look like" and "What should the next America look like?"
"America's founders dreamed of a nation where men and women from every race, religion and national background could live in equality — as brothers and sisters, children of the same God," he continued. "America's founders wrote this dream down in the Declaration of Independence. … As a result, we've always been a nation of immigrants. 'E pluribus unum.' One people made from peoples of many nations, races and creeds."
Archbishop Gomez decried a culture of "name-calling and discrimination" that clouds the debate, as well as "criminal profiling based on race, random ID checks, commando-style raids of workplaces and homes, arbitrary detentions and deportations."
"The fact is that most 'illegals' are the people next door," he continued. "They go to work every day. Their kids go to school with our kids. We sit next to them at church on Sunday. Most have been living in our country for five years or more. Two-thirds have been here for at least a decade. That's what makes our response to this 'crime' so cruel.
"For all its limitations, our national immigration policy has always tried to keep parents and children together and to reunite families that are separated by our borders. But that's not true anymore."
Citing statistics that showed more than 1 million people have been deported during the past four years, Archbishop Gomez added: "We're talking about souls, not statistics. We're talking about fathers who, without warning, won't be coming home for dinner tonight — and who may not see their families again for a decade. We're talking about women suddenly left as single mothers to raise their children in poverty."
Archbishop Gomez closed with a story about Pope Francis, whose father was a railroad worker who came to Argentina from Italy to seek a better life.
"The son of a humble immigrant grows up to become the spiritual father of more than a billion Catholics in every continent and nation," he said. "Doesn't that say it all about the promise of immigration?"
– – – Howard is editor of The Colorado Catholic Herald, newspaper of the Diocese of Colorado Springs.