Archbishop Schnurr statement: Scouting 'is compatible' with Church teaching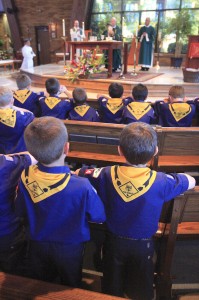 Staff Report
Openly homosexual youth will no longer be barred from the Boy Scouts, the organization decided earlier this month in a shift from long-standing policy.
The new policy ignited controversies across the nation with some religious groups choosing to end their affiliation with the Boy Scouts and others looking for ways to justify continued involvement. Archbishop of Cincinnati Dennis M. Schnurr issued a statement June 20 stating his thoughts on the matter.
"It is my hope, and at this point my expectation, that we in the Archdiocese of Cincinnati can continue partnering with the Boys Scouts of America in the healthy formation of young men," Archbishop Schnurr wrote.
The 1,400-member national council voted May 23 to add the following line to the requirements for being a scout: "No youth may be denied membership in the Boy Scouts of America on the basis of sexual orientation or preference alone."
The resolution passed with 61.5% voting in favor of the change and 38.5% opposed. It goes into effect Jan. 1, 2014, and is binding on all councils and units.
In a May 23 release, the BSA set the groundwork for the policy: "The Boy Scouts of America will not sacrifice its mission or the youth served by the movement by allowing the organization to be consumed by a single, divisive and unresolved societal issue. As the National Executive Committee just completed a lengthy review process, there are no plans for further review on this matter. While people have different opinions about this policy, we can all agree that kids are better off when they are in scouting."
Bishop Robert Guglielmone, the U.S. Conference of Catholic Bishops' episcopal liaison for the National Catholic Committee on Scouting (NCCS), attended the meeting and wasn't surprised by the result of the vote.
"I kind of expected that this is the way the vote would go," Bishop Guglielmone said. "I'm not particularly encouraged by it, but I knew it would happen eventually. As the policy change is right now promoted, we can live with it. Unfortunately, there are many people who are interpreting this policy to go much further than it actually does, particularly in the secular press."
The change follows a contentious period of lobbying by homosexual-rights groups hoping to roll back the ban on both homosexual scouts and adult leaders. The compromise is being seen by homosexual-rights activists as merely a "first step" to their ultimate goal of openly homosexual Boy Scout leaders.
The Catholic News Service contributed to this report.
The full text of Archbishop Dennis M. Schnurr's statement is below:
A STATEMENT ON THE BOY SCOUTS IN THE ARCHDIOCESE OF CINCINNATI 

June 20, 2013 

The Most Reverend Dennis M. Schnurr, Archbishop of Cincinnati, has released the following statement regarding the recent decision by the Boy Scouts of America to change its policy to state, "No youth may be denied membership in the Boy Scouts of America on the basis of sexual orientation or preference alone." 

For more than 100 years the Boy Scouts of America has provided a wonderful opportunity for boys and young men to develop character, virtue, and the values of service, community, friendship, leadership, and duty to God. For just as long, Catholic institutions have been willing partners in this noble endeavor as sponsors of Boy Scout troops.

It is my hope, and at this point my expectation, that we in the Archdiocese of Cincinnati can continue partnering with the Boys Scouts of America in the healthy formation of young men. We have long found the Scout program to be a valuable and effective program for our youth.

Regarding sexual orientation, at least two key principles guide us. The Catechism of the Catholic Church teaches that persons who experience a homosexual inclination are to be treated with respect and dignity and not unjustly discriminated against (#2358). The new Boy Scout policy is compatible with this teaching. The Catechism also teaches that homosexual behavior is wrong (#2357), just as immoral heterosexual behavior is wrong. Boy Scout policy is in accord with this teaching as well, stating elsewhere that "Scouting is a youth program, and any sexual conduct, whether homosexual or heterosexual, by youth of Scouting age is contrary to the virtues of Scouting." There is no prudential reason to believe the Boy Scouts of America and its local troops will act otherwise. However, more study is being carried out by the United States Conference of Catholic Bishops (USCCB) and others on the practical dimensions of the new policy so that Catholic troop sponsors can forge a common understanding and approach regarding campouts and other specific situations.

In the Archdiocese of Cincinnati, 148 Boy Scout troops with more than 4,000 young members are sponsored by Catholic parishes or organizations. The new policy adopted by the Boy Scouts of America does not provide an obstacle to our continued sponsorship of those troops or of Scouting as long as Catholic principles of morality are followed. I will remain vigilant to this end. I also have asked the priests of this diocese to remain involved and steadfast in the application of Catholic guidance for the troops sponsored by their parishes and Catholic organizations.

Our parishes, schools, and other Catholic entities have always had the right and duty to choose leadership for their units. That remains the case. Catholic-chartered units will continue to select leaders who promote and live Catholic values, and whose lifestyles are consistent with authentic Catholic teaching.

Moreover, I have commissioned the leadership of the Office of Youth and Young Adult Ministry and its Catholic Committee on Scouting to work with the leadership of the local Boy Scout of America councils and other community and Church leaders to formulate a further response so that we may ensure, to the best of our abilities, that every child in the Boy Scouts may continue to find in Scouting the treasured resource that it has been for the last 100 years in developing their God-given gifts and talents.

As Bishop Robert E. Guglielmone, USCCB liaison with the National Catholic Committee on Scouting has pointed out, "We have [in the United States] half a million Catholic Scouts in this program . . . If we pull away, we're going to have Catholic kids in a movement where there is no reflection of their faith. We need to remember that the movement has a lot to offer."