Archdiocese HQ gets artistic addition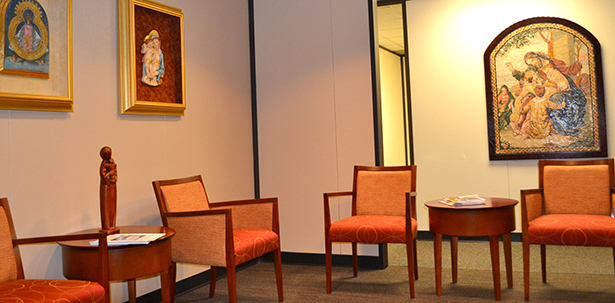 Staff Report
Little Children were brought to Him then that he might lay his hands on them and pray; but the disciples rebuked them. But Jesus said to them, "Let the little children be, and do not hinder them from coming to me, for such is the kingdom of heaven." And when he had laid his hands on them, he departed from that place. Matthew 19, 13-15.
Hanging in the lobby of the eighth floor offices of the Archdiocese of Cincinnati now is a mosaic acquired by Archbishop Dennis M. Schnurr during a visit to the Holy Land in December of 2014.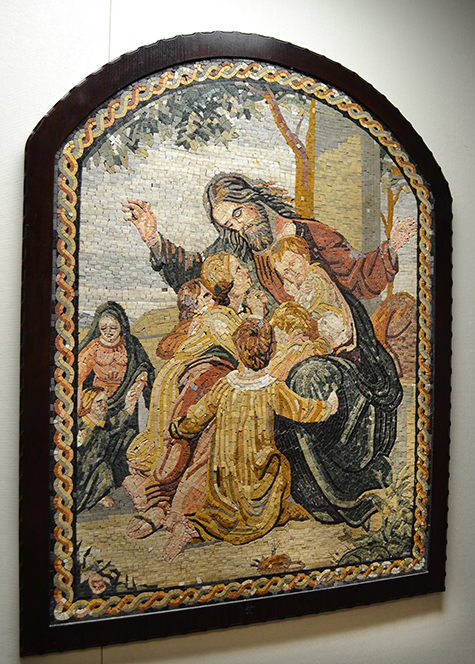 The mosaic depicts the above scene described in Matthew's Gospel.
The mosaic was created in a shelter workshop called "Nebo's Pearl" which is in Madaba, Jordan. The archbishop's pilgrimage last December visited the workshop after a visit to Mount Nebo, the place from which Moses was shown the Promised Land.
A Mr. Muneer (no first name), of Nebo's Pearl, said the mosaics and other arts created at the workshop support handicapped craftsmen and women as part of a program sponsored by Queen Rania of Jordan.
Archbishop Schnurr and a host of pilgrims visited the Holy Land for two weeks in December of 2014. The pilgrimage was a project of the Companions of St. James of the Archdiocese of Cincinnati and was facilitated by George's International Travel.
The eighth floor lobby also recently began to display at portrait of archdiocesan patron Saint Francis De Sales.
Posted April 14, 2015