Archdiocese marks 40th Catholic Schools Week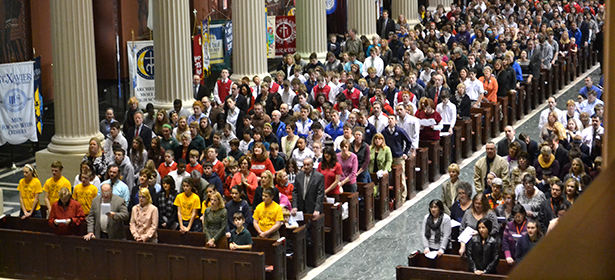 Press Release
Catholic school students, their teachers, and their communities throughout the 19-county Archdiocese of Cincinnati are celebrating the 40th annual Catholic Schools Week Jan. 26 through Feb. 1 under the theme "Catholic Schools: Communities of Faith, Knowledge and Service."
"Catholic schools have made a clear positive impact upon southwest Ohio," said Dr. Jim Rigg, Superintendent of Catholic Schools and Director of Educational Services for the Archdiocese. "During Catholic Schools Week, we will celebrate the success, legacy, and pervasive optimism of our Catholic schools."
On the first school day of Catholic Schools Week, Monday, January 27, the Most Reverend Dennis M. Schnurr, Archbishop of Cincinnati, will speak with Catholic high school students across the Archdiocese via videoconference. The Archbishop will convey his gratitude for Catholic schools and answer student questions through a live-streamed webcast from Stephen T. Badin High School in Hamilton, beginning at 9:30 a.m.
More than 1,000 representatives from Greater Cincinnati Catholic schools will participate on Tuesday, January 28, as the Most Rev. Joseph R. Binzer, Auxiliary Bishop of Cincinnati, presides at a special 10 a.m. Catholic Schools Week Mass at the Cathedral of St. Peter in Chains, downtown Cincinnati. A procession of students carrying school banners will begin at 9:40 a.m.
Archbishop Schnurr will preside at a Mass for students of the Miami Valley at 10 a.m. Wednesday, January 29, at Immaculate Conception  Church in Dayton, with a procession at 9:40 a.m.
Pastors throughout the Archdiocese are asked to ring their church bells at 10 a.m. on Wednesday, January 29, which is also National Appreciation Day for Catholic Schools.
The 113 Catholic elementary and high schools in the Archdiocese will mark the week with special programs, such as open houses for parents and grandparents, out-of-uniform days, service projects, Masses, talent shows, special decorations, student-faculty games and entertainment.
The Roman Catholic Archdiocese of Cincinnati is the 38th largest Catholic diocese in the country, with almost 500,000 Catholics, and has the sixth largest Catholic school system in terms of enrollment – 42,448 students for the 2013-2014 school year.