Archdiocese trip to Honduras offers opportunity for faith, friendship [Photos]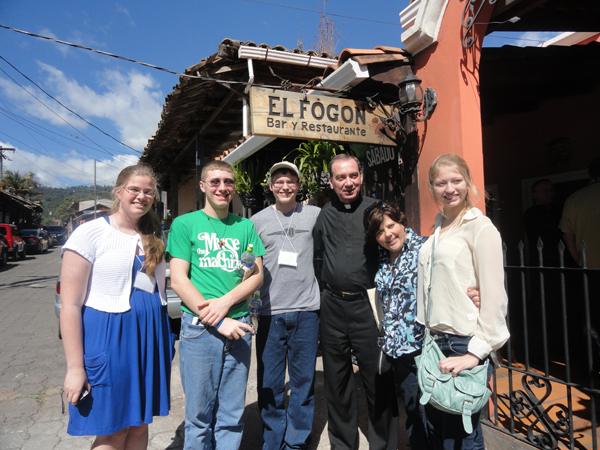 By Eileen Connelly, OSU
"We are all part of God's creation. We all share the same faith."
With those words, Griselda Geygan, a native of Honduras who is now a Cincinnati resident, summed up the experience of a group from the archdiocese, including Archbishop Dennis M. Schnurr, during a recent trip to the capital city of Tegucigalpa.
The journey offered the opportunity to embrace the universality of the Catholic Church, experience the hospitality and deep spirituality of the Honduran people, recognize that we are truly one in our faith and enjoy the company of new friends while learning about another culture.

Led by Mike Gable, director of the archdiocesan Mission Office, the trip served several purposes. It was Archbishop Schurr's first visit to the Central American country at the invitation Cardinal Oscar Rodriguez Maradiaga, Archbishop of Tegucigalpa, where he joined in celebrating the feast of Our Lady of Suyapa, patroness of Honduras, on Feb. 3. Members of St. Margaret of York Parish (SMOY) in Loveland also had the chance to visit with their twinning partners at Saint Dominic Savio Parish and students and teachers of St. Joseph the Worker Parish, where SMOY has established an outreach and scholarship program. In addition, young people from the archdiocese had the opportunity to share their vocal talents during liturgies at Saint Dominic Savio and the Basilica of Our Lady of Suyapa, along with developing connections and the potential for future projects with local youth.
At every turn, the Cincinnati delegation, which also included staff members from the archdiocesan Central Offices and faculty members from Seton and Mother of Mercy high schools, experienced the warmth and faith of the Honduran people. They were welcomed at an evening Mass at St. Dominic Savio on Jan. 31. Father Juan Angel Lopez, pastor, presided, assisted by Archbishop Schnurr, Father Jan Schmidt, pastor of St. Margaret of York, and Father Jason Bedel. A highlight of the Mass was music provided the Cincinnati youth and members of the parish choir, who sang songs in both English and Spanish. The choir, under the direction of Karen Kane, director of the archdiocesan Worship Office, and Bob Wurzelbacher, associate director of the Office of Youth and Young Adult Ministry, came together just four weeks ago specifically to practice and share their talents during the trip.
During his homily, Father Lopez said, "It's beautiful to have you here as a choir, using the gifts God has given you with your singing. You are teaching us how to share our faith."
Father Lopez noted that during the Year of Faith, it is important that Catholics not hide their faith, but rather renew it. "We have to come forward," he said. "What the world needs is witness to our faith. We are to be witnesses of the Lord."
"Thank you for being here with us and for sharing your faith, which is our faith," he said to the visitors.
"To share our faith during an experience like this is global solidarity at its finest," Gable said.
SMOY's experience of solidarity with the Honduran people began nearly six years ago when parishioner Donna Drzewiecki felt called to establish a partnership with a faith community in third world county as part of her studies in the Athenaeum of Ohio's Lay Pastoral Ministry Program. Gable arranged for an immersion trip to Honduras, where the travelers from SMOY fell in love with the country and its people. With encouragement from Cardinal Rodriquez, SMOY entered into a formal twinning relationship with St Dominic Savio, which serves a middle class neighborhood with many bilingual parishioners and has very active youth, family and social action programs. The twinning covenant between the parishes lays the foundation for their relationship, which consists of shared prayer, frequent communication, regular visits at each end, promotion of twinning and projects that continue to strengthen the faith and connection of all parishioners.
Paul Drzewiecki, who chairs SMOY's Twinning Commission and has made several trips to Honduras, said the members of St. Dominic Savio have inspired his fellow parishioners. "They worship with such joy and weave their faith into everything they do," he said. "We've learned that their faith is our faith."
Hector Martinez, coordinator of St. Dominic Savio's twinning efforts, said, "One characteristic of our parish is that the people are very welcoming. They've really embraced our twinning relationship and see it as an opportunity to grow in our faith and deepen our spirituality together Expectations are high among our parishioners and the members of St. Margaret of York that we will be able to develop some tangible projects we can work on together during the Year of Faith."
SMOY is also working to strengthen its ties with St. Joseph the Worker, located in an impoverished neighborhood of Tegucigalpa where gang violence is a harsh reality of daily life. Colorful banners, delicious refreshments and the smiles of adorable children greeted the archdiocesan delegation, though, when they visited the parish school. One of the school's two principals welcomed the visitors and, via a translator, explained that their goal is to unite all the students as one family, provide a quality education and give them the stability that many of them don't have at home as they grow up in an area where there is violence on every corner. "Seeing all of you here helps us know you are thinking of us," she said.
"We will pray always for your school," Kane assured her.
The trip also featured a visit to Casa Zulema, an AIDS hospice near Valle de Angeles (Valley of the Angels). Founded by Father Ramon Martinez, a Spanish priest, and operated by Laura Sanchez, the 20-bed center provides a homelike and faith-filled atmosphere for patients of all ages who have been rejected by their families. Members of St. Dominic Savio visit Casa Zulema monthly, bringing supplies and love. "We stay with them, talk to them and hug them," said parishioner Anna Maria Maradiaga. "They are part of our family."
During Mass at Casa Zulema, the delegation witnessed the baptism of a tiny baby boy, abandoned by his mother, a prostitute, in a dumpster. It is still unknown whether the infant has HIV, but for now he is receiving the love and care he needs.
After rehearsals at the seminary in Tegucigalpa, the young members of the archdiocesan group, which included students from Seton and Elder high schools, youth from the northern part of the archdiocese and members of Laudate (a music ministry experience for young people in grades eight through 12), joined a larger choir under the direction of Father Jonathan Funes for the Mass marking the feast of Our Lady of Suyapa. Cardinal Rodriquez presided, joined by Archbishop Schurr. Thousands of the faithful packed the basilica for the joyous event.
"It was certainly a wonderful opportunity for our young people, just an incredible experience of community and faith and sharing our mutual gifts. Father Jonathan and the other musicians were so welcoming," said Kane, who expressed her hopes that the experience will be repeated in the future.
"What a privilege it was to be able to able to participate in their holiest day," said Mary Beth Corey, a Spanish teacher at Seton and member of the choir.
Katie Feeney, a senior at Seton and member of Our Lady of the Visitation Parish, admitted she was initially nervous about singing at the feast day Mass, but said, "after a couple of practices, I knew something had changed. When we joined the choir from the Tegucigalpa archdiocese, it was inspiring. I have never felt more unity with the people around me than I did with the people at that Mass. We were there singing for one purpose — for God."
Later that afternoon, the young people from the archdiocese joined members of the youth pastoral from St. Dominic Savio for games, reflection and prayer. The coordinators of the youth pastoral shared the ministry's structure, wide variety of activities and how they have benefitted from their involvement. Edison Martinez, who joined the group at the age of 13, said, "It's the best thing I've ever done. Everything I do now is surrounded by God."
"I can't imagine my life without this group and the opportunity to serve my church," added Claudia Andino. "We have become friends and brothers and sisters."
"Now you have become our brothers and sisters, too," she told the Cincinnati youth.
As the afternoon began to wind down, Deacon Jeff Perkins of SMOY and Matt Reinkemeyer, coordinator of youth evangelization at the parish, presented Father Lopez with a banner from the faith community and archdiocese. "It's been an honor to be with you," Reinkemeyer said to the Honduran young people. "We're looking forward to partnering with you in the future. Thank you for sharing what you do so we can be a community of faith without borders."
Addressing the youth, Archbishop Schnurr noted that too often young people are referred to as the "future of the church." Rather, "your place in the church is now and into the future," the archbishop told them. "You have so much to offer the church. The church misses out on so much when we don't acknowledge the faith and talents of our young people," he said, thanking the young members of St. Dominic Savio for their ministry, as well as the youth from the archdiocese who participated in the trip.
John Grusenmeyer, a member of Sacred Heart Parish in New Carlisle, said, "It was really cool hearing what they do with their youth group and how it's structured. I feel a definite connection with the young people in Honduras. If anybody can, I'd recommend coming for a visit. To meet the people here and to witness their faith has absolutely helped me grow in mine."
During a dinner with representatives from St. Dominic Savio and many members of the Cincinnati delegation before they traveled home, Archbishop Schnurr thanked the organizers of the trip and all who participated. In his many travels and in witnessing how members of the archdiocese reach how to people of other countries, he said, "We always walk away touched by the faith we experience and the many ways we encounter the life of the church in the countries we visit. It's an opportunity to witness the church universal. It has been a privilege to be here."
"You will always find us here," Father Lopez said in response. "We will continue to pray for your archdiocese. Our country is your country.