Around the Archdiocese for Feb. 13: Pastoral ministry program opens satellite locations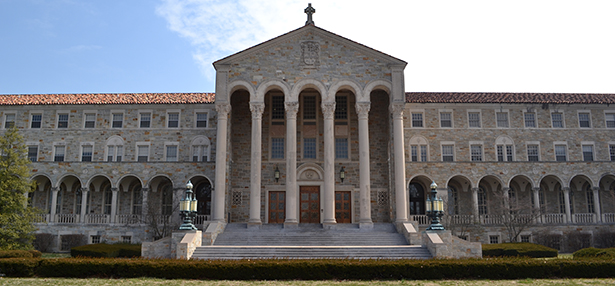 Staff Report 
The Lay Pastoral Ministry Program (LPMP) will open two new satellite locations to accommodate students interested in taking classes beginning in August 2015: the Daniel E. Pilarczyk Center on Needmore Road in Dayton and St. Ignatius Parish on Cincinnati's west side.
(Continue reading below for Catholic news from the University of Cincinnati, Elder High School, and University of Dayton)
The complete two year non-degreed Certificate Option will be available at the satellite locations with classes offered during the academic year from August 2015 through May 2017. The MA Pastoral Ministry degree, Graduate Certificate and non-degreed Certificate will also be available at the Athenaeum's main campus in Cincinnati.
Over 800 men and women throughout the Archdiocese have completed the MA Pastoral Ministry, Graduate Certificate or non-degreed Certificate and serve in a variety of professional and volunteer positions in parishes, schools, hospitals, prisons and non-profit agencies.
Learn more about the LPMP and the Athenaeum HERE.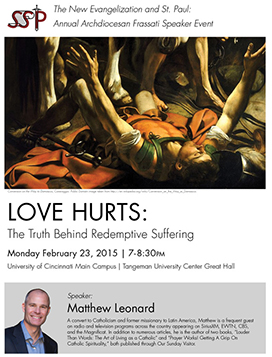 UC Society of St. Paul speaker series hosting Matthew Leonard
The February installment of the Frassati Speaker Series sponsored by the University of Cincinnati Society of St. Paul features Matthew Leonard.
A convert to Catholicism and former missionary to Latin America, Leonard is a frequent guest on radio and television programs across the country. He is the author of two books; "Louder Than Words:The Art of Living as a Catholic" and "Prayer Works! Gettting a Grip On Catholic Spirituality."
The lecture will take place from 7-8:30 p.m. Feb. 23 in Tangeman University Center Great Hall at the UC Main Campus. Learn more about the Society of St. Paul HERE.
Christian scholar Paul Contino to speak at UC
Speaker Paul Contino will deliver a lecture titled "Dante's Divine Comedy and the Contemporary Pilgrim's Lenten Journey" on Tuesday, March 10, 2015, starting at 7 p.m.. The lecture will take place at the Saint Monica-Saint George Catholic Church, located off the southwest corner of UC's Main Campus, 328 W. McMillan Street, Clifton.
Contino currently co-edits the scholarly journal Christianity and Literature, and serves as the Blanche E. Seaver Professor of Humanities at Pepperdine University. The lecture will be the third Saint Monica-Saint George Lecture in Contemporary Catholicism that UC offers annually. Learn more HERE.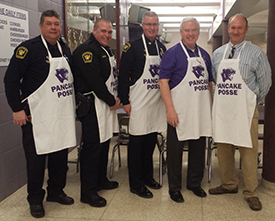 Police man 'Pancake Possee'
Each month Elder High School Principal Tom Otten, hosts a Pancake Breakfast for his students.  Various groups are invited to serve as members of the Pancake Posse each month. These volunteers range from teachers, to members of the Elder Moms and Dads Clubs.
For the first time (since 1997, when the breakfasts began) an outside group did the honors.  On Feb. 11, police officers from Cincinnati's District 3 wore the famous "Pancake Posse" aprons and served the students from 7-7:40 a.m. before classes began for the day.
Three students were particularly surprised as they saw their dads, in apron, stacking up hotcakes.  Seniors Tony and Drew Robb are the twin sons of School resource Officer Jim Robb, and junior Nick Hall is the son of Det. Dave Hall.
See pictures of the event at Elder's Facebook page HERE.
Journey through the Lenten desert at UD
Can you go a week drinking nothing but water? How about a week without complaining, gossiping, swearing, social media or sweets? Those are some of the challenges University of Dayton campus ministry will issue when Lent starts on Ash Wednesday, Feb. 18.
Crystal Sullivan, director of University of Dayton campus ministry, points out "Lent is not entirely about 'giving up' things, though. Lent is about making time and space for God, through prayer and activities that deepen our relationships with God.
Once again, campus ministry will be taking to Twitter — @UDLiturgies — and Facebook — University of Dayton Campus Ministry — to issue its Lenten challenges and offer suggestions for prayer, service and sacrifice.
Learn more HERE.
Around the Archdiocese is compiled from press releases and other submissions sent to The Catholic Telegraph. To be included in a future posting contact New Media Editor John Stegeman.
Posted Feb. 13, 2015