At La Salle High School where spring conditioning meets Stations of the Cross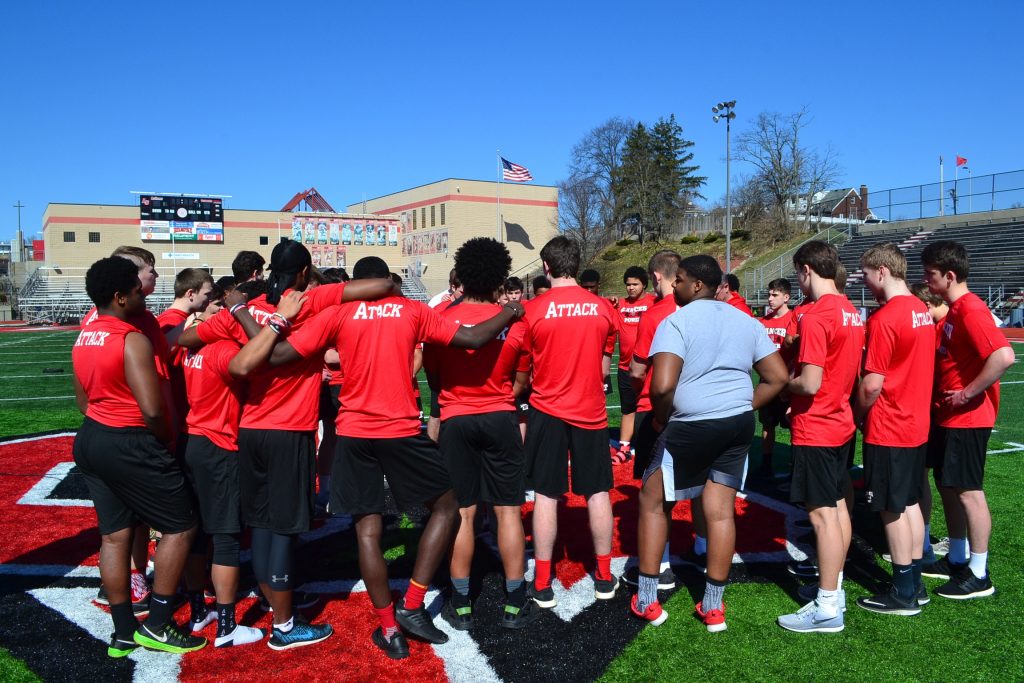 Tonight and throughout Lent, many have and will participate in the Stations of the Cross throughout the Archdiocese of Cincinnati. The stations grew out of pilgrims travelling to Jerusalem and walking the Via Dolorosa to Calvary.
On March 15, La Salle High School football players continued that tradition in a very unique way. Spring is a time for conditioning for the players, and on this day, it was combined with the 14 Stations of the Cross.
The men started bringing weights down and created a large circle for their place for conditioning. They would "bring it in" and read a Station of the Cross, with various players reading each station. Then they would return for 40 seconds of conditioning. They ended with 14 push-ups representing each Station of the Cross. The 40 seconds of conditioning represented the 40 days Jesus spent in the desert before His ministry.
The Third Station: Jesus Falls the first time
The Fourth Station: Jesus meets his Mother, Mary
This devotional by these men also was a way to understand "sacrifice." As each station was replicated, the task became more and more difficult.
The Thirteenth Station: Jesus dies on the Cross
Fourteen Stations, Fourteen Pushups
Reaction of Faith Formation at LaSalle:
Brody Ingle: "Carries on into the discipline aspect of carrying through life and into my job and hopefully my kids someday."
Cam Porter: "Great experience going through the struggle, understanding what Jesus went through, and I would do it again."
Coach Jeff Weirman: "A way to bring our sports ministry program what's going on in the weight room."
Head Coach McLaughlin: It's not that our responsibility is that we can do both (spirituality), but that we do both.
Check out the full interview below:
At La Salle, the program is not just conditioning for the upcoming football season, but a program of mind, body, and spirit.