Athenaeum graduate 'walks with the poor'
December 27, 2011
By Natalie Corzine
ARCHDIOCESE — When Paul Timmerman signed up to sponsor a child through the Christian Foundation for Children and Aging (CFCA), he never once imagined he would ever have a chance to met the child.
The decision to sponsor someone through CFCA was an easy one for Timmerman, a member of St. Michael Parish in Ft. Loramie. He signed up as a personal affirmation of his studies in the Lay Pastoral Ministry Program (LPMP) at the Athenaeum of Ohio after a CFCA campaign at St. Michael one Sunday last summer. The parish itself sponsors a family in El Salvador and this interested Timmerman. He was searching for a project in social justice, a topic he has become interested in since beginning the LPMP. He wanted a project that would "help me move beyond my community, and this seemed like the perfect opportunity to do so."
As he looked over the packets at church that day, he wondered to himself,  "how do I decide who gets help?"
"The spirit guided me. Marcelo's profile stood out," said Timmerman. He signed up to sponsor the child and began to receive letters and pictures from Marcelo through the CFCA's international headquarters in Kansas City, Mo.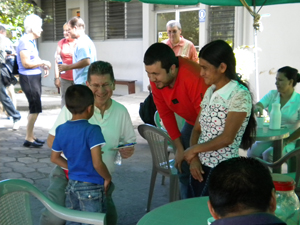 CFCA was founded in 1981 by brothers Bob, Jim and Bud Hentzen, their sister, Nadine Pearce, and Jerry Tolle, a former Jesuit priest. Their mission is "to walk with the poor and marginalized of the world." They provide attention and benefits directly to their recipients so they may "live with dignity, achieve their desired potential and participate fully in society." The group also helps  "people of good will to live in daily solidarity with the world's poor through one-to-one sponsorship."
Currently, CFCA helps close to 306,000 children, aging adults and vocational candidates in 22 developing countries. CFCA brings people together through the sponsorship model. A sponsor is paired with a child, youth or aging person in a developing country. CFCA then uses the sponsor's donation to tailor the aid to the benefit the person in the program.
Benefits and services provided through sponsorship include: food, school uniforms, school supplies, tuition or other school fees, clothing, housing repairs, medical and dental care, livelihood initiatives, literacy training for adults, Christmas and birthday celebrations, and social outings and assistance for the elderly. Timmerman's sponsorship helps Marcelo to attend school in a neighboring village.
A few months later, Timmerman received another opportunity to live out what he learned during his social justice studies. He travelled with others from the Archdiocese of Cincinnati to El Salvador in November to take part in a CRISPAZ (Christians for Peace in El Salvador) immersion trip. While he was there, CRISPAZ leaders and the local CFCA office arranged a meeting between Timmerman and Marcelo, the child he sponsors. [Marcelo's last name and other identifying information has been withheld by request of CFCA.]
Before meeting Marcelo, Timmerman had his reservations. He was anxious. "Will he reject me because I'm a stranger?" he wondered. "Will he see me as someone with money, not love?" He would soon get the answers to these questions.
On Nov. 2, as the group's bus pulled onto the grounds of the Hospital of Divine Providence in San Salvador, Timmerman spotted Marcelo at the outdoor coffee stand. The boy  was gazing around "like he was looking for someone" and he looked up at the bus.
Timmerman made eye contact with the boy and knew right then Marcelo was looking for him.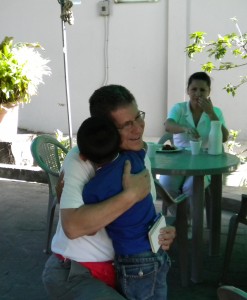 Timmerman met Marcelo and his mother outside of the chapel along with CFCA interpreter Efrain Martinez. Martinez brought them together and interpreted for the group. "I struggled with words even though I had practiced what to say to him," Timmerman said of the young boy.  "He hugged me as tight as my grandkids do and I knew I didn't need any words then."
Marcelo and his mother traveled a total of five hours for the meeting. With their local CFCA representative, they walked two and a half hours from their village to get to the bus station. (Marcelo's mother, 49, had never left her village until that day.) From the station, the three of them rode the bus another two hours to San Salvador to meet Timmerman by noon.  In San Salvador, they met with Martinez, who accompanied them to the meeting, and all of them spent the rest of the afternoon with the group from Ohio.
Because of his long travel time, Marcelo's visit was just a few hours. But Timmerman didn't mind; he was very grateful. He never imagined he "would ever travel to El Salvador, let alone get a chance to met Marcelo."
"This experience is an example of the Holy Spirit guiding me what to do," he said. "This is what solidarity is."
For more information about the Christian Foundation for Children and Aging, visit www.cfcausa.org.