Athenaeum Lessons and Carols inspire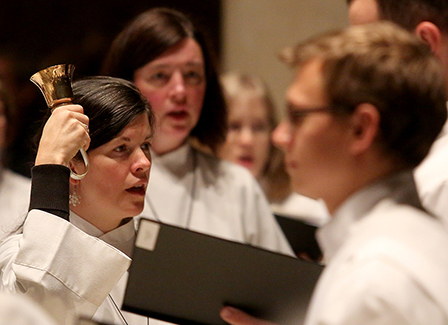 The Annual Advent Service of Lessons and Carols at the Athenaeum of Ohio was held Monday, Dec. 7. The popular service centers around the celebration of the feast of Mary's Immaculate Conception in the midst of the Advent season.
Chants with handbells, traditional and new Advent carols for choir and congregation, beautiful Marian motets and scripture lessons read by members of the Athenaeum faculty drew a packed house.
According to the Athenaeum's website, "the idea of a service of scripture lessons and carols dates back to 1880. The history of holding Advent Lessons and Carols at Mount St. Mary's Seminary dates back to 1976 when the seminary was located in Norwood. The Advent service has always been held on the Vigil of the Immaculate Conception, the patronal feast of the seminary.
"This was my first experience and I loved it!" said 18-year-old Thomas Wiley. "My mother (Mary) sang with the Chorale; I wanted to come mostly to hear her. I wasn't expecting the readings, but I liked the combination of music and scripture and thought it was very moving. And I enjoyed the way all the people attending were able to participate."
For the full story and more photos, visit the Athenaeum of Ohio's website HERE.