Attorney General DeWine visits CISE school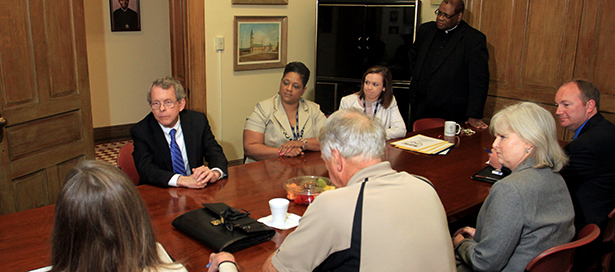 By John Stegeman
The Catholic Telegraph
Ohio Attorney General Mike DeWine visited St. Joseph Catholic School in Cincinnati Monday. DeWine had reached out to Catholic InnerCity Schools Education Fund (CISE) Director Cary Powell, seeking to visit a CISE school and Powell chose St. Joseph for the tour.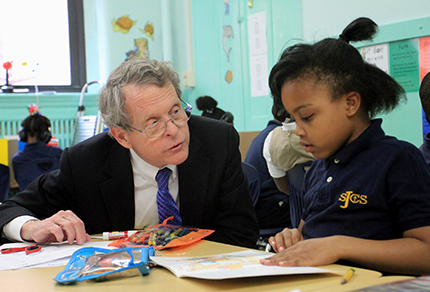 The attorney general spent more than an hour at the St. Joseph, which is fast becoming known for its implementation of blended learning, an educational process where teachers use computers to help students learn at their best pace.
"He was very interested in CISE but also a new initiative going on at St. Joe, blended learning," Powell said.
DeWine is the father of Judge Pat DeWine, a member of the CISE Advisory Board.
Mike DeWine met with St. Joseph pastor Father Reynaldo Taylor, principal Dionne Partee, Blended Learning Manager Emily Gilbride and CISE Advisory Board Chair Bob Hodge. CISE staff members Powell, Assistant Superintendent Cate O'Brien and Associate Director of Communications Sharon Civitello were also present.
"It can only be good for us," Powell said of attorney general DeWine's visit. "Because the news is good. Good stuff is happening in our schools."
There are more than 1,800 students in the eight CISE schools and an additional 200 who benefit from the CISE high school grant program. Seventy-five percent of students in CISE schools are not Catholic and ninety percent live in households with income below the poverty level.
The CISE schools are St. Francis Seraph in Over-the-Rhine, St. Francis de Sales in East Walnut Hills, St. Boniface in Northside, St. Joseph in the West End, Corryville Catholic, Resurrection in Price Hill, Holy Family in East Price Hill, and St. Lawrence in Price Hill.
Posted April 17, 2015