August edition: Interview with an Archbishop Emeritus, and more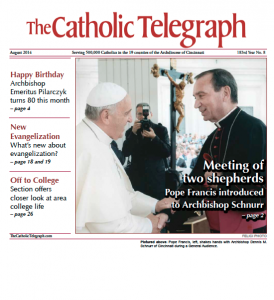 Staff Report
Subscribers to The Catholic Telegraph's print edition (and remember you can sign up here for a subscription at no cost to you) will begin receiving their August editions of the newspaper around Tuesday, July 29.
The August edition features a prominent photo of Archbishop Dennis M. Schnurr meeting Pope Francis on the cover. A related story fleshes out Archbishop Schnurr's meeting with the Pontiff, as initially reported here.
Also in this edition, The Catholic Telegraph's John Stegeman caught up with Archbishop Emeritus Daniel E. Pilarczyk on the occasion of his pending birthday August 12. Archbishop Emeritus Pilarcyzk was happy to provide an update on his health, talk about his daily life, and to discuss the plight of Christians in the world today.
The Everyday Evangelist story in August focuses on a pair of farming families from the northern parts of the Archdiocese that have been hard at work for decades and Body & Soul profiles Francesca Franchina, well-known radio host who often discusses food and faith.
A new-look Family Life page offers many opportunities for faith formation, the Office of New Evangelization has a special look at being Missionary Disciples and Father Dan Schmitmeyer has his debut Vocation View column, taking over from former Vocation Director Father Kyle Schnippel.
August's special sections include one on seniors, and another on colleges. The usual lineup of columnists, accent features related to the Cincinnati Reds, NET Ministries, philanthropy, sainthood and more.
Posted July 21, 2014