Bishop Leibold a six-time STEM leader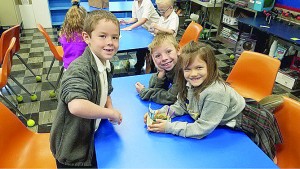 Dayton elementary school recognized for STEM education
For the sixth year in a row, Bishop Leibold School in Dayton has been awarded the Governor's Thomas Edison Award for Excellence in STEM (science, technology, engineering, and math) Education.
It is one of four schools in Dayton and Kettering that received the award this year, and the only elementary school among them.
The criteria for the Thomas Edison Award for Excellence are
(1) conduct a local science fair with 20 or more students
(2) qualify one or more of these students for one of the Ohio Academy of Science's 16 district science days
(3) have students participate in at least one youth science opportunity beyond the classroom such as State Science Day; visits to museums, mentorship programs, and extended field trips
(4) convince external professionals from STEM-related employers in business and industry, government and academia how and to what extent the school's program met the Academy's definition of STEM education.
"This award speaks to the strong science and math programs that are established at our school," said Beth Allaire, STEM coordinator for Bishop Leibold. "We were well represented this spring at the State Science Fair with 11 students participating. Six of our 11 participants received the highest, Superior scores, and five received Excellent scores. This was a team effort, and our STEM program fosters the skills needed to engage in scientific investigation."
Other Catholic schools in the archdiocese honored with the award were: Archbishop McNicholas High School, Carroll High School, Archbishop Alter High School, Mother Teresa Catholic School, St. Columban School, Lehman Catholic High School, and St. Rita School (Solon).