Purcell Marian's Blended Learning model garners attention after first quarter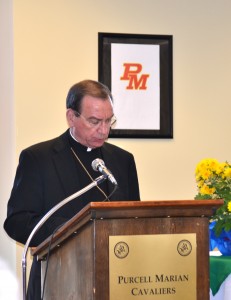 Press Release
Purcell Marian hosted Archbishop Dennis M. Schnurr Monday for a special blessing and dedication of the new James J. Gardner Learning Center, which will serve as home to the school's Blended Learning classes in mathematics.
Purcell Marian's Blended Learning model represents the is the first to be implemented in a Catholic school within the Archdiocese – and the region.  Blended Learning is made possible  in part through the generosity of a $500,000 matching grant from the James J. Gardner Foundation, as well as partnership with CBTS Technology Solution.
Monday's event also marked the release of preliminary results based on the first quarter of Blended Learning implementation at the school. In a small sample study conducted by Evergreen Education Group, a leading consultant in transitioning schools to Blended Learning throughout the country, student focus groups revealed the following findings after the first quarter of implementation of Blended Learning for math:
· Nearly all of the students interviewed cited a preference for Blended Learning over tradition math class

· Students liked the ability to go back and review material via the online instructional videos

· Students appreciated the opportunity to engage with quiz material until they achieved mastery

· Freshmen and sophomores in particular stated they felt they were learning to be more organized and structured about their studies
"While we expected some frustration from students and parents during the initial adaptation to the model, the beauty of Blended Learning by definition is that adjustments can be tailored to meet the students' needs at any time," Purcell Marian Principal Veronica Murphy said.  "As with any change, we've definitely experienced some challenges, but we're working closely with parents on a regular basis to address concerns and make adjustments accordingly.  Overall, we're very pleased with how the model is being received."
In addition to the positive response from the majority of parents and students, there are some early indications that Blended Learning is having a significant positive impact. According to Jeanine Flick, Purcell Marian's Dean of Academics, several students have already completed an entire math course in the first quarter, and will be moving onto the next math class three full quarters ahead of schedule.
"Not only have they completed the coursework," Flicksaid, "we're assured of their mastery of the material based upon detailed qualitative reporting we're able to analyze for each individual concept covered in the course."
She adds that while it's still early to make any definitive projections, all indications are that tailoring curriculum to students needs via the Blended Learning model will open doors for a good number of students.
Traditional classroom teaching, being led by one teacher to many students, requires that students stay on pace with the class majority.  Students who learn more quickly or who require more time to master a concept, particularly in math, were frequently left out of sync with the pace of the teacher in the traditional classroom model.  Students are now able to progress through material based upon how well they are absorbing it.
"We're excited about the opportunity to serve as a leader in this educational innovation," Murphy said.  "Our gratitude to the Gardner Family for their support through this matching grant is immeasurable."
"After seeing the dynamic impact of Blended Learning on schools across the country, we felt passionate about making this level of individualized learning available to Catholic students in Cincinnati," Gary Johns, Chairman of the Gardner Family Foundation, said.  "Purcell Marian was already breaking ground on the approach, and we felt that a generous matching gift would maximize funding and encourage others in the region to take advantage of the unique opportunity to share in this exciting evolution in education."
Purcell Marian High School is a Catholic, co-ed secondary school located in historic East Walnut Hills.  An innovator in education, Purcell Marian is home to the first space designated for Blended Learning within the Catholic school system of the Archdiocese of Cincinnati.