Breaking: Day after papal speech, Boehner resigning from congress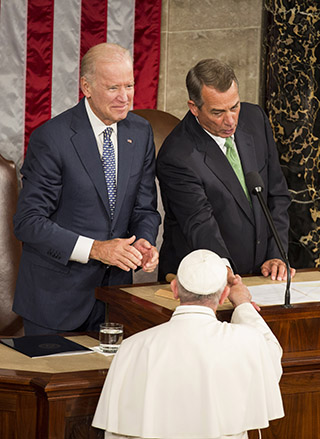 By John Stegeman
The Catholic Telegraph
Just days after seeing through his vision of having Pope Francis speak to a joint meeting of Congress, Speaker of the U.S. House of Representatives John Boehner's office has announced he is stepping down.
An aide from Boehner's office confirmed to The Catholic Telegraph that the representative of Ohio's Eighth Congressional District — which covers Middletown, Hamilton, Fairfield, Springfield and other locations along Ohio's western border — will leave Congress at the end of October.
"Speaker Boehner believes that the first job of any Speaker is to protect this institution and, as we saw yesterday with the Holy Father, it is the one thing that unites and inspires us all," an aide from Boehner's office told The Catholic Telegraph. "The Speaker believes putting members through prolonged leadership turmoil would do irreparable damage to the institution. He is proud of what this majority has accomplished, and his Speakership, but for the good of the Republican Conference and the institution, he will resign the Speakership and his seat in Congress, effective October 30."
A statement from the speaker was released shortly before noon Friday confirming the aide's statements.
"Today, my heart is full with gratitude for my family, my colleagues, and the people of Ohio's Eighth District," Boehner said. "God bless this great country that has given me – the son of a bar owner from Cincinnati – the chance to serve."
The aide said Boehner planned to serve through the end of last year but stayed on after House Majority Leader Eric Cantor's loss in a primary. Boehner was first elected to Congress in 1990 and has been Speaker of the House since 2011.
Boehner was instrumental in Pope Francis' speech to Congress. In February it was announced that Pope Francis had accepted Boehner's invitation to address the legislative branch.
"What a day. What a moment for our country," Boehner said in a statement following the pope's address. "I'm so proud that so many came to greet the Pope here at our Capitol, the world's greatest symbol of democracy. The Holy Father's visit is surely a blessing for all of us. With great blessings, of course, come great responsibility. Let us all go forth with gratitude and reflect on how we can better serve one another. Let us all go forth and live up to the words, God bless America."
Boehner, a Catholic and graduate of Moeller High School, attends Mass at St. Maximillian Kolbe in Liberty Township in the archdiocese.
Posted Sept. 25, 2015