Brink Brewing makes limited Release craft beer from local priests' honey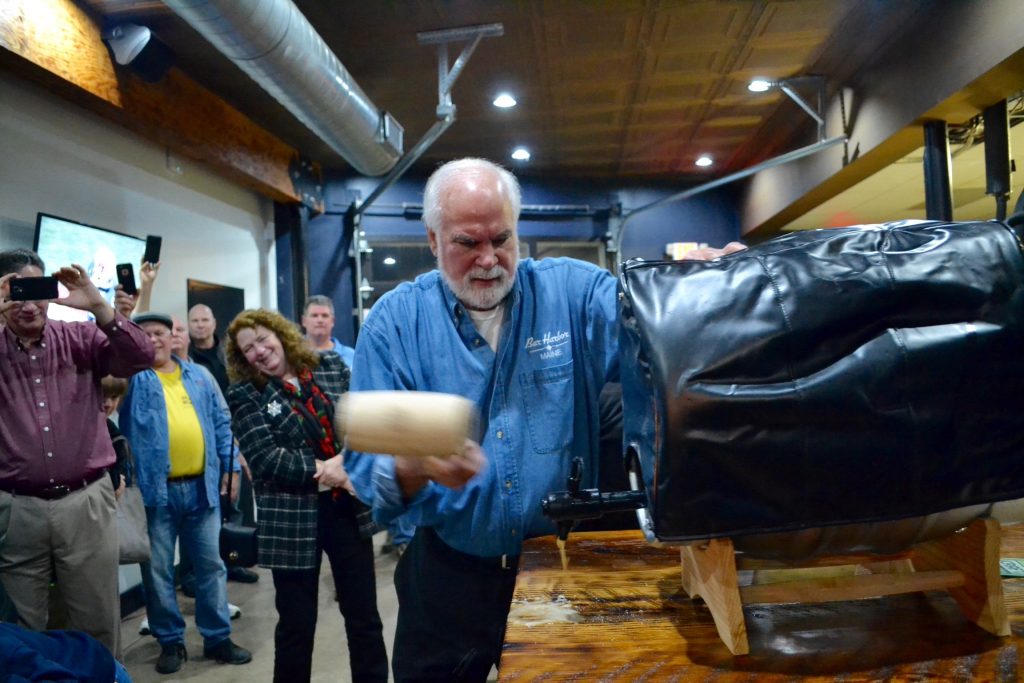 By Gail Finke
Since running out of beer during their opening weekend last year – attendance having smashed all expectations – Brink Brewing Co.'s taproom has been a hub of activity in Cincinnati's College Hill neighborhood. St. Clare Parish is a similar hub, and on Saturday the already crowded taproom made room for more as parishioners poured in to see Father George Jacquemin tap the first keg of a beer made with honey from his beehives.
Father George has kept bees for more than 30 years. He has 15 hives at his family's farm in Fairfield, and five at relative's property in Columbus. He produces several varieties of honey, beeswax candles, and decorative wax items, but no beer. "I've had my honey used for smaller batches by independent brewers," he said. "In fact, the College Hill Beer Club has five gallons brewing right now. But Brink made a 200-gallon batch, and that's a first."
The award-winning brewery bought 120 pounds of honey for what they dubbed "Father G's Bees Honey Brown Ale." Co-owner Andrew McCleese said the brewmaster used the same base – featuring nutty, toffee overtones – to brew two barrels of beer, one the plain Honey Brown, and a second with added hazelnut.
"They're both very good," said parishioner and long-time College Hill resident Roger Bernhard, who enjoyed a pint with his wife, Mary Jo. Parishioner and chef Mary Seguin said the Honey Brown was "a very pleasurable drinking experience – an easy drink."
At 7 p.m. on the dot, parishioners and beer connoisseurs gathered around a table in the back of the bar where co-owner Michael Hyatt had set up a keg of the ale. While the crowd snapped photos with their phones, Father George pounded a tap into the keg with a large wooden mallet, which he later signed with a permanent marker. When the beer began to spray all over the concrete floor, the keg was tapped and the beer could officially be served.
"I find it reverent and smooth," joked Noah Halbeson, another St. Clare Parishioner, and a regular at Brink. "It's really a very nice beer – thank you to Brink and to Father George!"
College Hill resident Clint Smock, who works at Brink as a part-time brewing assistant, said he adjusted the hazelnut until it added "just a nice amount of sweetness" to the nutty base. His wife Shannon, who teaches at Mother of Mercy High School, concurred that the beer was as good as they had hoped.
One of Father George's brothers, Mike, drove down from Oxford for the tapping. Also a beekeeper, Mike said he thought the beer and the event were both "wonderful."
Parishioners who missed the tapping continued to drop by during the evening, including Tom and Annie Stark – who brought plates of seasoned pumpkin seeds Annie had made from the pumpkins Father George brings from the farm to decorate the church sanctuary every fall.
"He liked them so much, he left with them!" said Tom, who pronounced the beer as good as his wife's pumpkin seeds. "It's great beer. Not all microbreweries have a fine taste right off the bat, but they do."
McCleese said neighborhood involvement was the founders' intent from the start. "We took more than two years to find a neighborhood we thought we could be part of, and it's exceeded our wildest expectations," he said. The taproom has become a gathering spot to watch games, hang out with family (children and dogs are welcome) and host small parties. It hosts a weekly running club and this fall had a potluck "Friendsgiving" dinner and charity coat collection that scores turned out for. St. Clare has been part of the scene since Father Bob Hater, who lives at St. Clare, blessed the building before it opened.
"It might sound corny, but our greatest joy is that we've made real friends here," McCleese said. "We weren't trying to be huge right out of the gate, but we wanted to be part of a community, and College Hill has been great."
Brink makes small batches of a variety of beers, and while some go faster and some go slower, none are around for long. McCleese suggested that anyone who wants to try Father G's Bees come in as soon as possible.
"Two weeks," he predicted would be the longest the beer would last. "Between both varieties, we only made 13 kegs – and we're putting a pretty good dent in those tonight. And anyway, it's so much better fresh!"
Brink Brewing Co. tapped "Father G's Bees Honey Brown Ale" on Dec. 2. The taproom is open 7 days a week; hours vary. For information click here.
Interested in more information about priests and beer? Listermann Brewering Co., near Xavier University in Cincinnati, will unveil "Father Kyle's Cinnamon Roll Stout" to celebrate Father Kyle Schnippel's upcoming appearance on "The Great American Baking Show" (see our story here) this week. And early this year Urban Artifact brewery in Cincinnati's Northside created a special Belgian quad-style beer made of wild yeast collected from the National Shrine of St. Anthony of Padua in Mt. Airy (see our stories here and here).
For more on Father George Jacquemin and his honeybees, see the story at the One Faith, One Hope, One Love Campaign site.