Bulldog Buddies learn lessons from each other
January 23, 2012
By Patricia McGeever
ST. FRANCIS DE SALES DEANERY — Part of a Catholic education is learning how to put your faith into action. Part of being a good civic leader is finding ways to make your community a better place.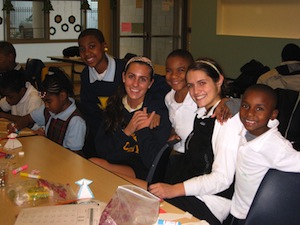 A program at St. Ursula Academy, through which high school girls tutor children at elementary schools in their Walnut Hills neighborhood, is the perfect blend of both.
It's called Bulldog Buddies, and for one hour each week after school, the teenagers visit a designated location and help grade school children complete their homework and studies.
One of the schools is St. Francis de Sales, and the school's coordinator, Dacian Vogt, said that one hour a week has a big affect on the children completing their school work.  "A lot of these kids, if they go home, their homework, it's not going to get done."
Peggy Platz, community service coordinator at St. Ursula, agrees. "Sometimes it's getting the homework out of their backpacks, sitting there with them, not necessarily helping them do it, but being present with them while they do it, particularly for the low-achieving students. They don't always need help. They need a direct motivation to do it. Then, it's getting the homework put back in their backpacks, because sometimes if it's taken out in their own home, it's never returned."
The program was started in the fall of the 2002-03 school year with 24 high school "buddies." Former principal Frances Romweber, then-campus minister Liz Curran and Ursuline Sister Eileen Connelly, who was the community service director at the time, were all instrumental in getting the program off the ground. That first year, St. Ursula partnered with Windsor Elementary. Windsor has since closed, but the program grew and now works with students at St. Francis de Sales, Frederick Douglass Elementary, Pleasant Ridge Montessori and the Interfaith Hospitality Network, a shelter for homeless families in transition.
Senior Sarah Halmi works with the children at the center and says she rarely sees the same kids. "It did make my perception of homeless people change because the parents obviously try," said Halmi. "When I think of homeless people, I think of people begging on the side of the street, and it's not like that."
By contrast, senior Nicole Porter has worked with the same girl at St. Francis de Sales for almost two years. "When I first met her, she was a little bit shy and we just kind of quietly worked on her homework and she'd ask me questions when she needed it. Now she's a bit more open and she talks about her life and her family."
Students who become Bulldog Buddies say they choose to get involved because they wanted a more consistent way to help make a difference in their community. They also enjoy the interaction with the children. "I thought it would be fun to work with little kids because I'm blessed with this great education, so why not share it with other people," said senior Micaela Bresler, who is in her second year visiting Frederick Douglass Elementary each week.
The girls say they enjoy mentoring and recognize that they are positive role models for the younger students who often clamor for their attention when they arrive, "They're so eager to get the help and to learn and it kind of makes me feel good," said senior Lauren Ficker. "I think the satisfaction you get from helping people and knowing that they are growing and actually learning something and they are learning from us," makes the experience meaningful.
The program is open to sophomores, juniors and seniors. The students can apply each semester to be a tutor. Last semester, 68 students were Bulldog Buddies. This semester the number will be closer to 75. The girls visit the schools in groups and each group has a team leader. They help children in kindergarten through the eighth grade. While those children may be tutored several times a week, there are enough Bulldog Buddies that each girl is committed to just one tutoring session a week.
Senior Lauren Ashley has worked with children in four different grades. "Last year, I worked with kindergarteners, and now I'm working with grade schoolers, so I can see the differences. Kindergarteners are really cute. Sometimes they would draw me pictures," she said "But, they're a lot more hyper."
After schoolwork is completed, the girls play games with the children. Sometimes they play Hangman with vocabulary words; other times the younger students make up their own games.
While the little buddies may be learning how to solve a math problem or how to spell new words, the big buddies are learning something, too.
"It's kind of like a reality check for us," said  Halmi.
Bresler added the program has, "broadened my understanding of the global community, especially poverty."
The girls all agree this service is both humbling and rewarding. As Porter summed it up: "Every time you see them get better or improve you feel better about yourself and know that you actually made a difference."