Carson Kissell: Radiating God's Divine Mercy Across the Globe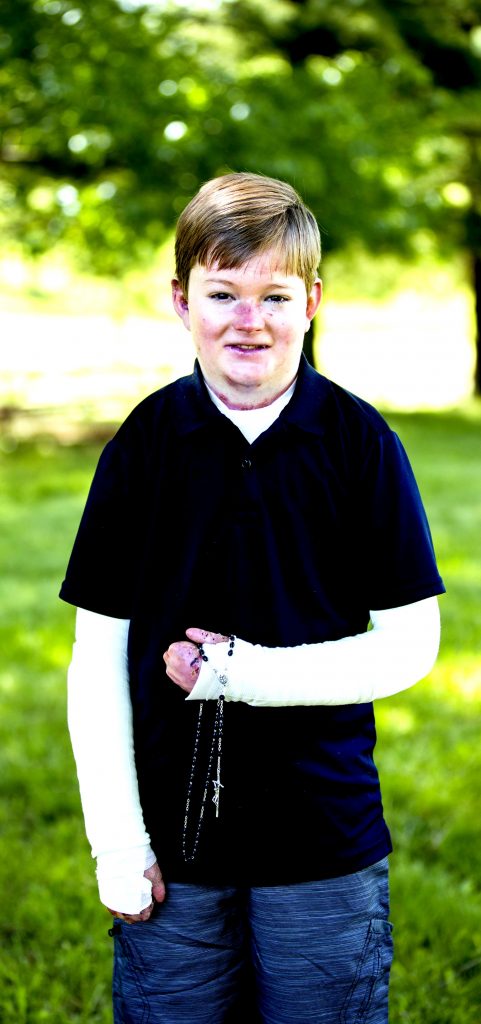 by Patricia McGeever
A 3:00 every afternoon Carson Kissell, 13, picks up his rosary that was once used by St. Pope John Paul II, and leads hundreds of people in prayer for an end to the coronavirus. His fingers are fused from scar tissue caused by a rare genetic skin disease, yet they move across the beads as he prays the Divine Mercy Chaplet daily on Facebook Live. The videos, once posted, get thousands more views from people as far away as Ireland, New Zealand and the Philippines.
"I was surprised," said Carson of the following his new ministry is gaining.
He got the idea from family friends who are praying the Rosary daily for an end to the pandemic, but Carson chose the Divine Mercy Chaplet so as not to compete.
"The Divine Mercy Chaplet is a devotion we've been praying for years," said Carson's dad, David.
Carson is a natural on camera. He recites the prayers by heart and shares a bit about his own personal pain and suffering. The Facebook Live posts first went up on his mom, Kristy's, Facebook page, but she soon started getting thousands of friend requests from strangers who wanted to join Carson in prayer. So the family created a public Praying with Carson Facebook page (@PrayingwithCarson).
"The day Pope Francis gave his blessing to the world at the end of March, [Carson's broadcast] went around the world and got 60,000 views," said David. In other words, Carson went viral.
EWTN picked up on Carson's daily broadcasts, and shared what he is doing on their EWTN Nightly Broadcast. With that exposure, his followers and fellow prayer warriors swelled, often commenting about how much Carson inspires them. Carson's original intention behind launching the broadcast was to pray for an end to the coronavirus, but soon, people began posting their own prayer intentions.
"We get a ton each day. My mom is my stage crew," who writes them all out, he said.
Carson is the oldest of three boys. He has Epidermolysis Bullosa, which means his skin is very fragile and easily tears and blisters. The slightest rub or bump can hurt him. The disease also affects his internal organs. There is no cure. His youngest brother has it, too.
"I'm missing colagen seven, and without that my skin can come off with a lot of friction," said Carson. "So imagine grass without the roots. Without the roots, it pretty much just comes right off."
Carson wears contact lenses to protect his eyes from abrasions. His body is wrapped from neck to toe to protect it from injury, and the dressing changes take about three to four hours each day. The family usually has a home health nurse to help with the boys, but because of the pandemic, they've been on their own since March.
"My mom is the angel who does that every other day," said Carson. Taking a bath can be particularly hard. "During my baths, I offer my suffering for the intentions in the comments," he said about those posted on his Facebook site.
Carson also has a devotion to St. Pio of Pietrelcina who suffered the stigmata, the wounds of Christ in his side, hands and feet. "He wore wraps like me," said Carson.
The Kissells attend St. Bernard of Clairvaux parish and the children are home schooled. Despite his suffering, Carson is a happy, typical teen who enjoys video games. He also enjoys writing and reads some of his work during the live broadcast. Carson isn't sure he'll continue his daily prayer session on Facebook once the pandemic ends, but, he will continue to pray.
"Prayer is pretty much everything in our family," he and David both said. "It's like food. You can't live without it. Food for the soul."
This article appeared in the July 2020 edition of The Catholic Telegraph Magazine. For your complimentary subscription, click here