Cathedral to seal 'Door of Mercy' in Sunday ceremony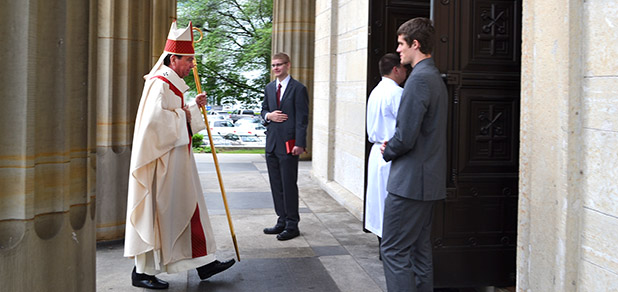 By John Stegeman
The Catholic Telegraph
The Cathedral of St. Peter in Chains has announced on its website that it will seal a "Jubilee Year Door of Mercy" in a ceremony 5 p.m. Nov. 1, following Evening Prayer.
The door is being sealed as preparation for the Extraordinary Jubilee of Mercy, a holy year declared by Pope Francis that will begin on the Solemnity of the Immaculate Conception Dec. 8, and end Nov. 20, 2016 on the Solemnity of Christ the King.
The cathedral will seal the main front door leading into the rotunda on the Plumb street side of the church. It will be locked, and the Year of Mercy logo will be affixed to the door. The closing of the door will follow 5 p.m. Evening Prayer. After Evening Prayer, there will be a procession out of the church and the door will be locked shut.
At the major basilicas in Rome, there is a Holy Door that remains sealed at all times except during a jubilee year. Since the cathedral doesn't have a door dedicated to that purpose, one is chosen to be sealed. A plenary indulgence is granted to pilgrims who cross the threshold of the holy door in Rome, and a similar grace is extended to the local church communities around the world.
At least 60 priests are expected for Evening Prayer on Sunday, as the occasion will also celebrate the rededication of St. Peter in Chains as a cathedral, an event that took place Nov. 3, 1957.
Evening Prayer and the sealing of the holy door are open to the public.
The holy door will be opened in a ceremony by Cincinnati Archbishop Dennis M. Schnurr at the 11 a.m. Sunday Mass on Dec. 13. On that date, cathedrals around the world will open their own holy doors as well. Other "doors of mercy" will be opened in the days and weeks following.
In the Archdiocese of Cincinnati, several holy sites will be designated for pilgrims, who may obtain a plenary indulgence. Other requirements for the indulgence have not yet been published by the Vatican.
"I love this from the Pope's instruction 'Misercordiae Vultus,'" said Father Barry Windholtz, cathedral pastor. "He said, 'By crossing the threshold of this Holy Door, we will find the strength to embrace God's mercy, and dedicate ourselves to being merciful with others, as the Father has been with us.'"
Learn more about the Extraordinary Jubilee of Mercy at the Archdiocese of Cincinnati website HERE.
Posted Oct. 28, 2015