Catholic Charities relocating from downtown Cincinnati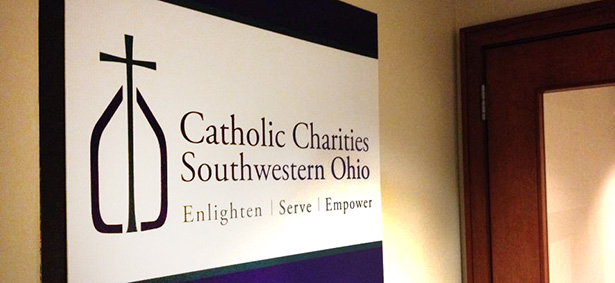 Staff Report
Catholic Charities of Southwestern Ohio announced today that the 100-year-old organization will relocate from its present location in downtown Cincinnati to the Mid Pointe Tower building in Roselawn, beginning Jan. 9, 2015.
A post on the Archdiocese of Cincinnati Facebook page linked to a story in the Cincinnati Business Courier. That report stated 45 employees from two existing sites will move to the new location.
A press release from Catholic Charities of Southwestern Ohio said the move allows the agency to combine administrative staff and house many of its community service operations under a single roof. The current location is in the same building as the Archdiocese of Cincinnati's main offices.
"The new offices bring us closer to the people we serve and put more of our professional staff in one place," said Ted Bergh, Catholic Charities CEO. "It also gives us space to add and improve several existing programs to meet the changing needs of the community."
The move includes the relocation of the Su Casa Hispanic Center, which has outgrown its present facilities about a mile away from the new site. The added space will allow Su Casa, and Catholic Charities recent immigrant and refugee programs to expand their English, computer, and health and wellness classes.
Other services at the new location will include the Caregiver Assistance Network, Mental Health and Family Services, Refugee Resettlement program, Crisis Pregnancy counseling, Disaster Relief and Senior Corp.
Bergh said the new location, which has ample parking and is located along several Metro bus routes, will be more convenient.
Catholic Charities offices in Hamilton, Montgomery, Delhi, Fayetteville, Springfield, Urbana, Anderson Township, Eastgate, and Queensgate will remain open.
A small presence will remain at the downtown Cincinnati location as well.
Catholic Charities of Southwestern Ohio is a ministry of the Archdiocese of Cincinnati serving 11 counties in southwestern Ohio. The new address will be:
Catholic Charities of Southwestern Ohio
Mid Pointe Tower
7162 Reading Road
Cincinnati, OH 45237 
Posted Sept. 29, 2014