Catholic family farms same land for generations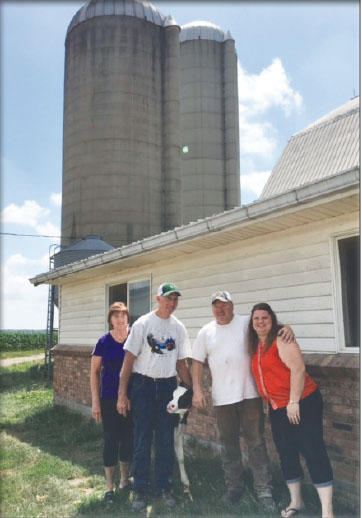 A seemingly endless expanse of blue sky and fields. A landscape dotted with barns, silos, grazing livestock and old family farmhouses.
This is the scene that greets visitors to rural areas in the northern part of the archdiocese, in this case outside Fort Loramie, where six generations of the Hoying family have farmed the same land since 1833. The current owners, Ryan and Stacy Hoying, live at the original farm site in Shelby County. Ryan's parents, Roger and Kay, live next door.
The Hoyings were among 20 farm families who received Catholic Century Farm Awards July 27 at the annual Rural-Urban Mass, sponsored by the St. Marys and Sidney deaneries. The award recognizes Catholic families who have continuously farmed the same land for 100 years or more.
That land was originally purchased by a great-great uncle (Gotfried Hoyng – original spelling of the name) and settled on by Carl Hoyng, his wife, Maria, and, son, Clemens, who arrived in the United States from Germany in 1834. Carl became one of the founding fathers of St. Joseph Parish in Egypt, where the family still worships today.
An account book of Carl Hoyng's financial dealings and records notes that the farm produced and sold butter, eggs, schinken (ham), speck (bacon), cows, veal, hay wheat, rye, barley, potatoes and lumber. A great amount of the butter, as well as other farm produce, was sold to canal boat captains who traversed the Miami and Erie canals.
Today, Roger, who acquired the property in 1980, and Ryan, farm the land fulltime with help from another Hoying son, Roger, growing corn, soy, and hay, and raising dairy cattle. It's a livelihood Roger wouldn't trade for anything.
"I get up in the morning and go to the barn, and don't have to fight traffic," Roger said. "It's a perfect place to raise kids. There's plenty for them to do, and it instills a strong work ethic in them."
Kay said there is a definite connection to the land and appreciation for the natural beauty of their surroundings
"The best thing you can do after it rains is to take a walk and see the corn growing. I like the sense of quietness, the peace," she said.
The Hoyings acknowledge that farming isn't without its challenges, in particular the unpredictably of weather conditions and the resulting impact on crops. "The lack of rain can be a problem," Roger noted, "but that's when you have to depend on God. You pray that everything is going to be ok, and just trust in the Lord."
And, added Ryan, "you depend on your neighbors. This is a small community and everybody is willing to help each other. If you need help building barn, the neighbors will there to help you. It's a given."
Stacy said she and Ryan plan to one day start their own family, and while they would never force farming on their children, they do hope it's something they'll come to appreciate. "I came from a small family, and love the traditions that have been passed down from one generation to the next, and the way that the land is respected," she said.
For the Hoying family, the Catholic Century Farm Award is a testament to the hard work and dedication of those who came before them.
"I just think it's such an awesome thing for the land to have stayed in our family for this long," Ryan said. "We're proud to be a part of this."
"There have been good years and bad years," noted Kay, "but because of family and faith, the farm has continued on."
This story first appeared in the August 2016 print edition of The Catholic Telegraph.