@CathTelegraph sends 1,000th tweet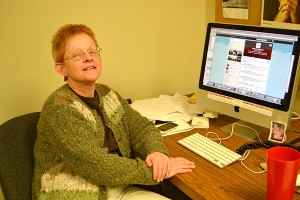 By John Stegeman
The Catholic Telegraph
On Friday, March 1, The Catholic Telegraph sent out it's 1000th tweet.
The Catholic Telegraph joined Twitter in March of 2009, sending its first tweet on March 4. The first tweet was simple; "First Tweet … hello everybody."
The @CathTelegraph account preceded the current website (www.thecatholictelegraph.com) by more than a week.
In the four years since launching on Twitter, The Catholic Telegraph has grown its online profile. The website is now one of the area's top sources for local Catholic news and events, and the Facebook (www.facebook.com/the.catholic.telegraph) and Twitter pages provide reader engagement to an audience of nearly 4,500 (3,626 Twitter, 685 Facebook).
The 1000th tweet, sent by News Editor Sister Eileen Connelly, was a link to an online-only story, "Sede Vacante in the digital age." The story detailed various campaigns and events taking place in cyberspace during the interregnum.

Sister Connelly, who has been with The Catholic Telegraph since May of 2000, said that online growth has allowed the paper to reach a wider audience than ever before.
"I've definitely seen our online presence increase," she said. "I think we're reaching a whole new audience as a result. I've had people come up to me or send me emails and comment that they've seen an article online. It is exciting when you see that we're reaching people that we hadn't reached before…It's a way to further carry out our mission of evangelizing and educating people about their faith and sharing inspiring stories about how other people are sharing their faith."