Celebrating the canonization of Mother Teresa of Kolcata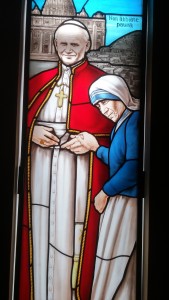 In the Archdiocese of Cincinnati, to mark the canonization of Blessed Mother Teresa, after whom Mother Teresa Catholic Elementary School (MTCES) was named, the school is hosting a canonization celebration on Sept. 4 from 11:00 a.m.-2:30 p.m. The event will begin with Mass celebrated by Archbishop Dennis M. Schnurr at 11:00 a.m. Following Mass, guests will have the opportunity to participate in a simple meal and a service project.
Shortly before the death of Mother Teresa in 1997, a small group of parents gathered together to establish a Catholic school in the Butler Country region. MTCES in Liberty Township is the fruit of their efforts. These pioneer parents named the school after Mother Teresa because they were inspired by her relentless dedication towards service, especially for those in great need. MTCES is the only school or parish within the Archdiocese of Cincinnati named in honor of Mother Teresa.
With soon-to-be Saint Teresa of Kolcata's message at the forefront, the MTCES community has infused the Canonization Celebration with activities that will benefit the poor and hungry of our neighborhoods. The simple lunch following Mass will have a soup kitchen theme and include items prepared by La Soupe. Headed by chef Suzy DeYoung, La Soupe rescues otherwise wasted produce to create delicious and highly-nutritious meals for customers, non-profits and food-insecure families. "We are excited to have this momentous event to honor the generous spirit of our namesake and to serve as the beginning of a wonderful partnership between MTCES and La Soupe," said Precious Blood Sister Anne Schulz, principal and CEO of MTCES. "Throughout the school year, our students and families will participate in service projects that support La Soupe's efforts to feed the hungry of Cincinnati."
The celebration also will include a service project to benefit the Empty Bowls of Butler County event that will take place at MTCES on Oct. 15. Canonization guests will have the opportunity to purchase and paint a soup bowl for $10. Empty Bowls will fire those bowls in a kiln and sell them at their event. All proceeds will support the hungry in our region. In addition, MTCES invites all guests to bring a personal hygiene item or fruit (cans/cups) to the event to benefit St. Raphael food pantry in Hamilton.
To register for the event, guests should complete the online registration form on the MTCES web site, www.mtces.org, by Aug. 19. For more information about the canonization celebration, contact Development Director Angie McGraw at [email protected]
Story Posted August 31, 2016