Chaminade Julienne Plans To Open CJ STEMM Center (VIDEO)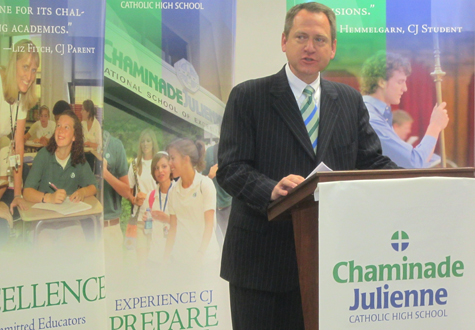 DAYTON — On Jan. 9 Chaminade Julienne High School announced plans for a $4 million dollar renovation to the school's second floor to create the CJ STEMM Center. The center is slated to open in August of 2013 and be ready for the following school year.
The announcement of the CJ STEMM Center included an indoor "groundbreaking" in which CJ staff took down part of a wall with sledgehammers. The groundbreaking is featured in the video below.
STEMM is an acronym for science, technology, engineering, math and medicine education. The center aims to enhance Chaminade Julienne's "Project Lead the Way" curriculum for engineering and biomedical studies, as well as providing more opportunity for students involved in the STEMM program courses and activities.
For more information about the CJ STEMM Center, as well as comments from CJ staff and students, keep an eye out for the forthcoming February edition of The Catholic Telegraph.